Gainward GeForce GTX 570 1280MB Phantom Video Card
Dec 22, 2010 2:03 AM CST
Gainward GeForce GTX 570 1280MB "Phantom"
The "Phantom" of the best yearend opera- Gainward revolutionary own design GeForce GTX 570 "Phantom"-stylishly cooler and superiorly quieter, beyond your imagination!
As the leading brand in enthusiastic graphics cards, Gainward proudly introducing powerful, brand new revolutionary own design edition, "Phantom". Stylish and eye-catching industrial design, "Phantom" represents the low-temperature gaming performance and low-acoustic-noise character, providing the most quiet sustainability and all-mighty performance capability.
Cutting-edge revolutionary thermal solution, equipped with premium materials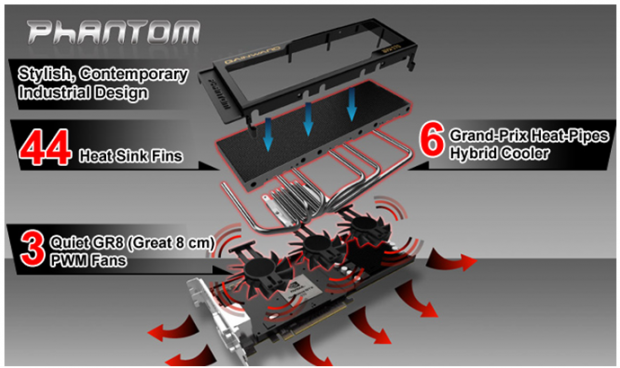 "Phantom" interprets Gainward innovative R&D ability and adopts the best-in-class materials for enthusiastic users. Gainward GeForce GTX 570 "Phantom" innovates brand new thermal solution, unveiling it mask, you are fascinated to find the heat conducted away by remarkable 6 pcs of Gainward Grand-Prix Heat-Pipes Hybrid Cooler designed in 6 mm heat-pipes on a copper base and dissipation reinforced efficiently from the interior GPU core by three excellent, extreme silent GR8(Great 8cm) PWM fans; furthermore, 44 heat sink fins are embraced to make the best of optimized dissipation. Gainward GeForce GTX 570 "Phantom" comprises three dynamic thermal masterpieces, creates the best cooling performance, and provides silent performance and sustainability under the hard loading.
[img]2[/img]
Gainward GeForce GTX 570 "Phantom" is built from Nvidia Fermi 2.0, presents the newest technology and has gone through a series of harshest trials. Every Gainward GeForce GTX 570 "Phantom" has to survive from most critical burn-in test, operating in the aggressive clock rate in extreme temperature. It is factory over-clocked for all 480 CUDA Cores at 750MHz and whopping 1950MHz for 1280MB GDDR5 320 bits memory (bandwidth up to 156 GB/sec).It is also smartly and thoughtfully integrated "QuattroPorts", (Display Port, Dual-DVI, HDMI), fulfills universal connectivity for diverse display in Extreme High-Definition resolution(1920x1200/1080p).
Extreme silent in routine computer processing work
According to statistics, even hardcore gamers spend 70% of a day time on routine computer processing work, such as word editing, internet surfing, email checking and so on. Gainward "Phantom" is proudly to present its extreme silent character under 2D mode, totally inaudible running only 4.9dB higher than the environment, nearly undistinguishable. Comparing with GTX 570 reference board, Gainward GeForce GTX 570 "Phantom" performs amazingly in low acoustic noise scale, which is 6.7dB quieter, 58% lower than reference board. Thanks to the great advantage, the silent "Phantom" gives gamers a chance to immerse in the most tranquil environment and enjoy the most high-quality experience.
[img]3[/img]
Extreme cool in 3D hard loading
Gainward GeForce GTX 570 "Phantom" has 15 PolyMorph Engines and 480 CUDA cores, nearly achieving an astounding 2 billion triangles per second, easily seen in Hollywood blockbuster movies with the tremendous amounts of polygons rendered in real-time. While in 3D hard loading, Gainward "Phantom" illustrates its excellent cooling design by operating extreme low-temperature, which is 15C lower than GTX 570 reference board, literally 30% amazingly cooler. Contributed by the revolutionary cooling solution and optimized circuit design, Gainward GeForce GTX 570 "Phantom" delivers low-temperature performance, implying more over-clocking margin, meaning that enthusiasts can enjoy more of over-clocking from it.
After two weeks of Gainward GTX 570 "Golden-Sample" Goes Like Hell, "Golden-Sample" and standard edition launch, Gainward proudly introduces its revolutionary glory edition, "Phantom". Playing with stylish and powerful Gainward GeForce GTX 570 "Phantom", gamers can enjoy high quality computer experience all the time, no matter in silent- acoustics 2D idle processing or cool- performance 3D hard loading; "Phantom" is always going to be your best choice!
Gainward GeForce GTX 570 "Phantom" Specifications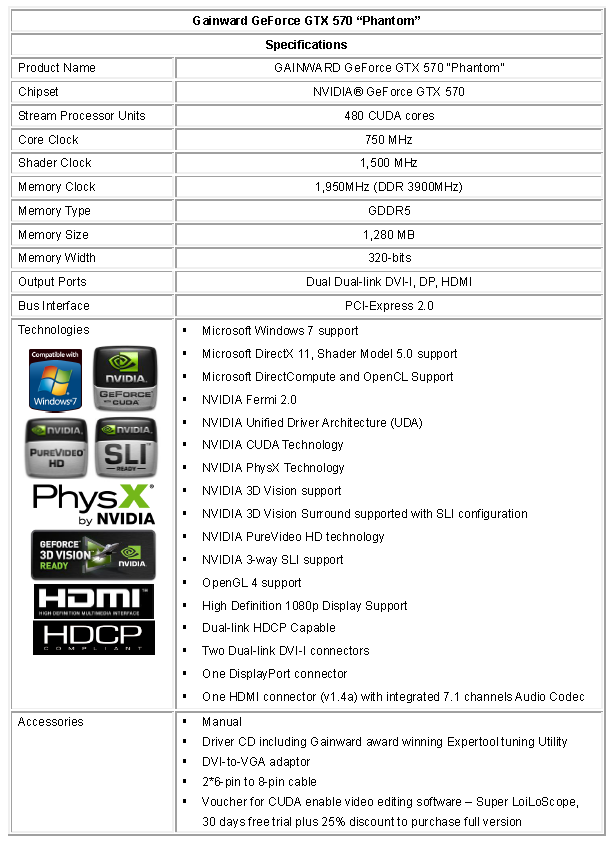 About Gainward
Gainward was founded in 1984 with a commitment to develop the most advanced graphics accelerators in the industry and ensuring the highest level of customer satisfaction. Received great reputation for manufacturing of leading edge products for the enthusiastic market. Gainward "Golden Sample" (GS) and "Golden Sample Goes Like Hell" (GS-GLH) are two signature synonyms for aggressive overclocked and extreme overclocked graphics cards in the gaming society. As one of the top graphics cards leading brands, Gainward continues to provide cutting edge products with excellent quality. Furthermore, Gainward brand name symbolizes our belief in gaining trusts and respects from our valued customers. With Headquarter based in Taipei, Taiwan, factory in Shenzhen, China and European Headquarter in Munich, Germany. Gainward is ambitious to address worldwide market and cooperates closely with its globally localized channel partners.
For further information please visit http://www.gainward.com
Last updated: Apr 7, 2020 at 12:03 pm CDT
PRICING: You can find products similar to this one for sale below.

United States: Find other tech and computer products like this over at Amazon.com

United Kingdom: Find other tech and computer products like this over at Amazon.co.uk

Australia: Find other tech and computer products like this over at Amazon.com.au

Canada: Find other tech and computer products like this over at Amazon.ca

Deutschland: Finde andere Technik- und Computerprodukte wie dieses auf Amazon.de
Related Tags