Gainward GeForce GTX 580 "Golden Sample"- World's first and fastest DirectX 11 GPU!
Gainward GeForce GTX 580 "Golden Sample" 1536MB GDDR5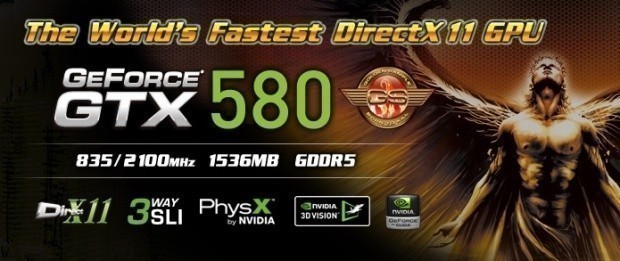 The world-renowned graphics card leader, Gainward is crowned again to unveil the world's 1st and fastest DirectX 11 GPU - GeForce GTX 580 "Golden Sample". Gainward GeForce GTX 580 is dynamically driven by enhanced Fermi-architecture GPU (GF110); it is a tribute to enthusiastic PC gamers worldwide with the screaming performance and quiet cooler design. Gainward GeForce GTX 580 "Golden Sample" is over-clocked approximately from 772MHz to 835MKz for all 512 CUDA Cores and has a whopping 2100MHz for 1536MB GDDR5 384 bits memory; equivalent bandwidth is up to 201.6 GB/sec. Every single Gainward GeForce GTX 580 "Golden Sample" ensures the best stability and quieter operation under aggressive over-clocking. While its DirectX 10 performance surpasses up to 43 % than the previous generation and 30 % higher in DirectX 11, its performance in DirectX10 benchmark goes beyond proudly 19% comparing with competing GPU in red camp and exceeds amazingly 73% in DirectX 11 performance.
Gainward GeForce GTX 580 with synonym high performance is clocked at 772MHz and geared with the same 1536MB of GDDR5 memory clocked at 2004MHz on a 384 bits bus. Gainward GeForce GTX 580 not only enhances its gaming performance up to 20% over its previous generation but also ensures maximum stability with less power consumption and a quieter thermal design.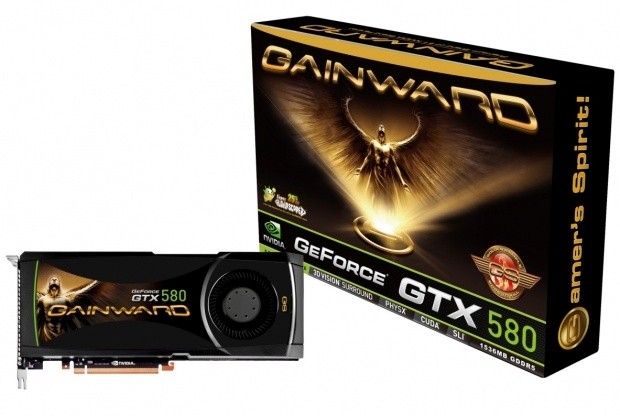 With the Gainward GeForce GTX 580 series, you can enjoy exceptional geometric realism with amazing 12 billion triangles per second. Experience blockbuster games with superlative gaming thrills like Call of Duty: Black Ops and Tom Clancy's H.A.W.X. 2 in their full glory. If you are a hardcore gamer, the Gainward GeForce GTX 580 series is equipped with an optimized cover design, achieving a better SLI configuration even when powered in full compliance with 3-way SLI. Along with all the benefits listed, you can also enjoy gaming with extra exciting NVIDIA features - PhysX, CUDA & 3D vision and immersive 3D Vision Surround in SLI configuration. With the incredibly screaming performance and sensational features, Gainward GeForce GTX 580 "Golden Sample" and Gainward GeForce GTX 580 are your best choices. What are you waiting for! Show off the most powerful rigs ever to your pals and enjoy their looks of envy when you have the world's fastest DirectX 11!
Gainward GeForce GTX 580 Series Specifications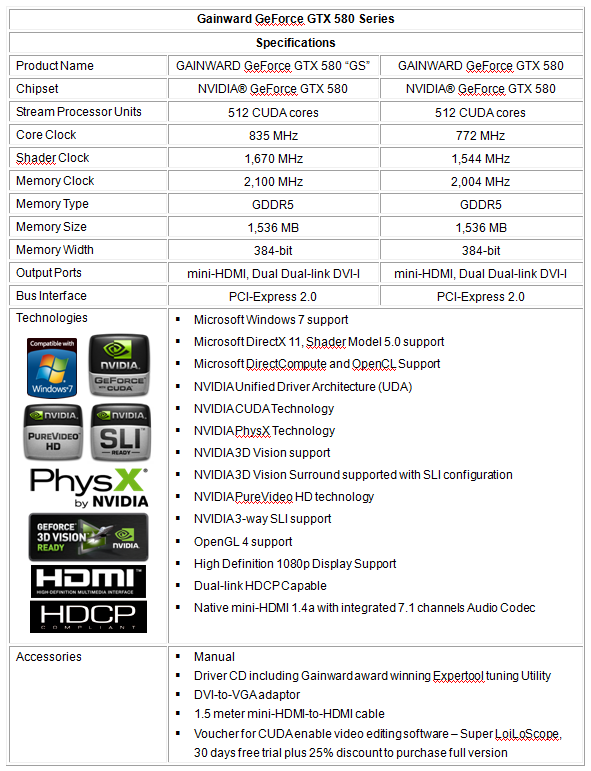 About Gainward
Gainward was founded in 1984 with a commitment to develop the most advanced graphics accelerators in the industry and ensuring the highest level of customer satisfaction. Received great reputation for manufacturing of leading edge products for the enthusiastic market. Gainward "Golden Sample" (GS) and "Golden Sample Goes Like Hell" (GS-GLH) are two signature synonyms for aggressive overclocked and extreme overclocked graphics cards in the gaming society. As one of the top graphics cards leading brands, Gainward continues to provide cutting edge products with excellent quality. Furthermore, Gainward brand name symbolizes our belief in gaining trusts and respects from our valued customers. With Headquarter based in Taipei, Taiwan, factory in Shenzhen, China and European Headquarter in Munich, Germany. Gainward is ambitious to address worldwide market and cooperates closely with its globally localized channel partners.
Last updated: Apr 7, 2020 at 12:03 pm CDT