AOC Delivers Fresh Fashion to the Widescreen Industry with the Launch of the Stylish Luvia Series
Celebrating a modern and unique design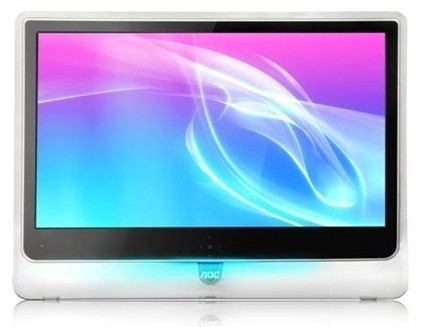 Sydney, Australia: 27 July 2010 - AOC, one of the top global players in providing the best value display technology along with unique design and lifestyle features, today announced the launch of the Luvia series of LED-backlit monitors. The series includes the e2237Fwh and e2437Fh models, all showcasing an elegant, modern design, user-friendly features and green power.The Luvia series introduces fresh fashion to the widescreen industry.
Themed Clear Frame Design
The monitor is framed with an ultra-slim cabinet tapering to just 22mm and a "floating bezel" design with luxury crystal-clear frame. The beautifully designed Luvia series adds style and individuality to your home or office desktop. Available in three uniquely designed decorative front panels including Mystic Black, Floral Red and Noble Gold, the AOC Luvia series is more a home office feature than a monitor, In fact the Luvia can be easily hung on the wall with it's super-slim body allowing for flat installation and immaculate presentation. Screen sizes begin from 21.5" with the largest screen in the screens at 24" wide.
LED Keyboard and Ambient Light
The ergonomically designed Luvia series includes a fashionable and practical LED desk light for brightness control, night working and ambient decoration in one. The blue LED light bar can light up your keyboard & mouse working at night and brightness can be adjusted according to your wishes. The range is also designed with user-friendliness at the forefront of their engineering and includes Luvia's touch ring control design with graphical icons in the OSD menu that makes monitor adjustment simple.
i-Care Sensor
Users can experience the ultimate in comfort and protection with the uniquely designed "i-Care" sensor system exclusive to AOC can detect the intensity of surrounding lights and automatically adjusts monitor brightness accordingly, protecting against eyestrain and fatigue.
All models in the Luvia range are green powered and environmentally responsible with up to 48% lower power consumption then other LCD models equipped with e-Saver software and EPEAT Silver Certification.
The Luvia series boasts an ultra-high contrast ratio of 20M:1 (DCR) which allows users to see darker areas of content in more depth, multiple input connections including HDMI and built-in speakers. Nothing has been compromised in style design and specifications to make the Luvia series stunning and practical, great for business or personal use.
Key Benefits and Features of the AOC Luvia Monitor
• 21.5" and 24" screen
• Ultra slim 22m design
• HDMI Input
• Crystal frame design
• Wall mountable
• Available in three unique decorative panels
• Ambient LED Backlight
• Ergonomically designed i-Care Sensor System
• Ultra-high contrast ratio of 20M:1 (DCR)
• Low Power consumption
• Off Timer
• e-Saver Software
• Environmental Certifications
• EPEAT Silver Certification
• Microsoft Windows 7 compatible
Product Pricing and Summary
Vendor: AOC
Model: Luvia
RRP:
e2237Fwh AU $269 NZ $329
e2437Fh AU $329 NZ $TBA
Distributor: Altech Computers, Compucon
Website: www.aocmonitor-anz.com
Mini site: http://www.aocmonitor-anz.com/lcd_monitor/e2237fwh.php
Availability: Now
About AOC
AOC is a leader in display technology for Monitors, Multimedia Displays and TVs, backed by over 60 years of design and manufacturing experience. AOC has earned a reputation for selling user-friendly, technologically advanced displays, with every aspect of AOC's business focusing on the development of products that fit seamlessly into consumers' digital lifestyles.
Last updated: Apr 7, 2020 at 12:02 pm CDT