iSuppli Ranks Kingston as World's Top Memory Maker in 2009
Independent Market Research Firm's DRAM Module Findings Based on Revenues, Market Share
Fountain Valley, CA -- June 23, 2010 -- Kingston Technology Company, Inc., the independent world leader in memory products, was ranked No. 1 in the world by independent research firm iSuppli in the third-party DRAM module market for 2009. According to the report, Kingston's revenue from memory modules was more than $2.85 billion (U.S.), giving it 40.3 percent of the total third-party memory module market.
"The memory market started to rebound in the first quarter of 2009 as both average selling price and demand went up," said John Tu, co-founder, Kingston®. "We are fortunate to be in this position, given the overall state of the memory industry and economy in the past few years. Kingston always maintains a strong cash position which allows us to make the most of market swings. These are the things that see us through the good and not-so-good times."
"Kingston is a lean company which helps us to be very flexible and nimble when it comes to making decisions and adapting to market conditions, which change constantly," said David Sun, co-founder, Kingston. "We strive to be efficient in all of our processes and the strong relationships we enjoy with our partners, vendors and suppliers help us to maintain our strong position in this industry."
Kingston's memory module products include branded or system-specific memory; ValueRAM® industry-standard memory built to JEDEC specs and designed for system integrators and white box builders; and HyperX® memory for gamers and PC enthusiasts who demand higher performance and speed. Founded in 1987 with a single offering, Kingston now makes and sells more than 2,000 memory products.
The iSuppli report covers memory module revenue only. It does not cover Kingston's NAND Flash revenues. In February, Kingston announced that its 2009 global revenues were $4.1 billion, the second highest in company history.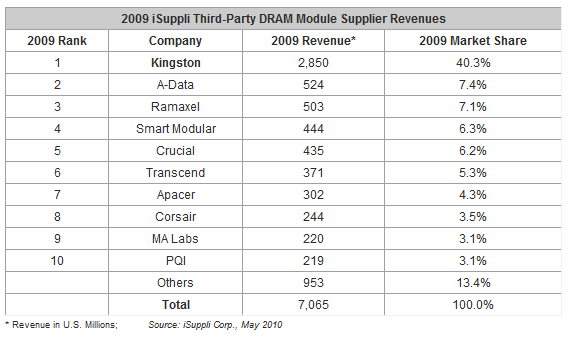 For detailed information please visit the Kingston Web site at: www.kingston.com.
About Kingston Technology Company, Inc.
Kingston Technology Company, Inc. is the world's largest independent manufacturer of memory products. Kingston designs, manufactures and distributes memory products for desktops, laptops, servers, printers, and Flash memory products for PDAs, mobile phones, digital cameras, and MP3 players. Through its global network of subsidiaries and affiliates, Kingston has manufacturing facilities in California, Malaysia, Taiwan, China and sales representatives in the United States, Europe, Russia, Turkey, Australia, New Zealand, India, Taiwan, China, and Latin America.
Last updated: Apr 7, 2020 at 12:02 pm CDT