Panasonic Unveils The Toughbook CF-31: The Flagship Model Just Got Tougher, With Increased Performance And Flexibility
Increased computing power, rugged standards and connectivity
UK. 12th May 2010 - Panasonic today launched its new Toughbook CF-31, the flagship product in its ruggedized range. Designed to access applications and data in the most extreme mobile computing environments, the CF-31 is the latest incarnation of the Toughbook, which has been developed through five generations over the past decade.
The CF-31 replaces the CF-30, which has become the fully rugged device of choice for utilities, emergency services and military personnel. And the latest device, which is available in three different models (Value, Standard and Performance) looks set to continue that domination with its increased durability, improved performance and long battery life.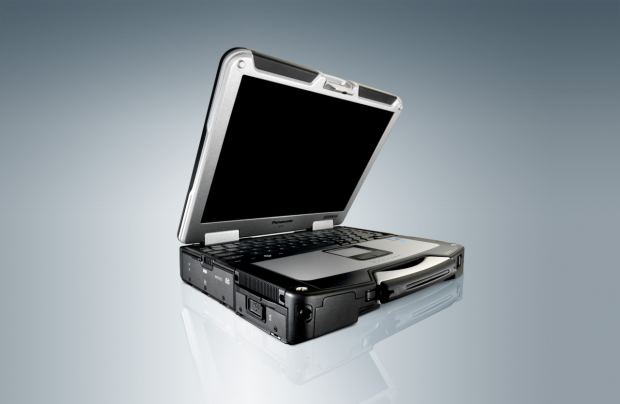 Increased performance
The CF-31 delivers CPU performance twice that of the CF-30 in almost the same sized package. Its desktop-performance computing power is delivered by the Intel® Core i5® with vPro technology in the Performance and Standard models. The devices are designed to take advantage of Intel® Turbo Boost Technology and Intel® Multi-Threading to maximize the performance of the CPU.
The top of the range model also has a switchable graphics capability, allowing users to switch between the enhanced graphics performance of the dedicated ATI Mobility Radeon™ high-end HD 5650 graphic chip, with 512MB dedicated RAM; and the internal Intel® HD graphics, to save power when on the move.
Screen visibility even in direct sunlight
The ability to see data and applications on screen in bright sunlight is essential for field workers. The CF-31 uses Panasonic's Circular Polarizing technology in its Standard and Performance models to deliver market leading clarity with brightness displays of 1,000 nits and a very low reflection ratio on its touchscreen, 13.1" XGA display. The CF-31 also contains a floating mounted LCD design to protect from screen shocks.
Better than ever reliability and durability
With magnesium alloy casing, inside and out, and Panasonic's anti-scratch and thermally reflective coatings, the CF-31 is the toughest Toughbook to date. It is MIL-STD 180cm drop tested and has increased water, dust, vibration and temperature protection over the CF-30 giving it an impressive IP65, MIL STD 810G rating.
With HDD damping and rugged casing systems to optimise drop protection and an HDD heater and Panasonic's foam packing system to provide flexible seals, the CF-31 can operate in even the harshest conditions.
The CF-31 is equipped with a Hybrid Cooling System combining a passive and active cooling process. In the passive process heat is distributed by pipes from heat critical areas to the cooling hub.
Built to stay connected on the move
To help field engineers stay connected on the move, the CF-31 has an expanded wireless capability with embedded screen-mounted radio antenna offering optimal radio performance over WWAN (optional), WLAN, WIMAX (optional) and Bluetooth. It also includes a dedicated wireless switch allowing users to switch connections on and off to improve operating time.
Flexibility to configure
Adapting to fast changing circumstances is also an essential capability for a field device. The CF-31 has a built-in additional slot, which can be configured on a project basis at the time of order, for a 2nd LAN, firewire or modem. New interfaces in the form of 4 USB ports, a HDMI port and optional webcam complete the CF-31 product package.
The power to last
To ensure that field technicians and engineers have a device that can work for as long as they do, even when access to power is lost, the CF-31 Standard model can operate for up to 11.5 hours running on Windows 7. All units also use the Panasonic Power Management Utilities technology to maximize power efficiency by managing the power of all relevant resources required by the CPU for each task. In addition, the CF-31 runs on Panasonic's own high-capacity battery cells designed to deliver maximum device performance and safety.
Compatibility that counts
To ensure existing customers can continue to use the peripheral equipment, the CF-31 is compatible with the CF-30 and CF-29 car mounts and other peripherals such as screen protectors, docking stations and batteries from the previous generation.
Backed by outstanding service
Every Toughbook comes with a 3-year warranty covering hardware failures for systems used as designed; with a 96-hour repair commitment and a 5-year spare parts guarantee.
Availability and pricing
The CF-31 range is available immediately and the Standard model is £3,329 (excluding vat).
About Panasonic
Panasonic Corporation is a worldwide leader in the development and manufacture of electronic products for a wide range of consumer, business, and industrial needs. Based in Osaka, Japan, the company recorded consolidated net sales of 7.77 trillion yen (US$78.4 billion) for the year ended March 31, 2009. The company's shares are listed on the Tokyo, Osaka, Nagoya and New York (NYSE: PC) stock exchanges. For more information on the company and the Panasonic brand, visit the company's website at http://panasonic.net.
Last updated: Apr 7, 2020 at 12:01 pm CDT