OCZ TECHNOLOGY INTRODUCES THE ENYO USB 3.0 PORTABLE SOLID STATE DRIVE (SSD)
OCZ Takes Portable Storage to the Next Level with SuperSpeed USB 3.0 Technology
SAN JOSE, CA-May 5, 2010-OCZ Technology Group, Inc. (NASDAQ: OCZ), a leading provider of high-performance solid-state drives (SSDs) and memory modules for computing devices and systems, announces the Enyo Portable SSD, utilizing the next generation USB 3.0 interface. The Enyo features all the performance and durability advantages of an internal SSD but delivers portability with an external storage solution for on-the-go users who need to share files between various PC systems.
"We are continually searching for new ways to make the benefits of solid state storage available to consumers, and our new ENYO SSD is designed to make those benefits portable," said Ryan Petersen, CEO of the OCZ Technology Group. "The ENYO is a sleek external SSD that makes use of the increasingly popular SuperSpeed USB 3.0 interface to make transferring anything from spreadsheets to high definition movies significantly faster than traditional media. Consumers never have to leave home without their valuable files again."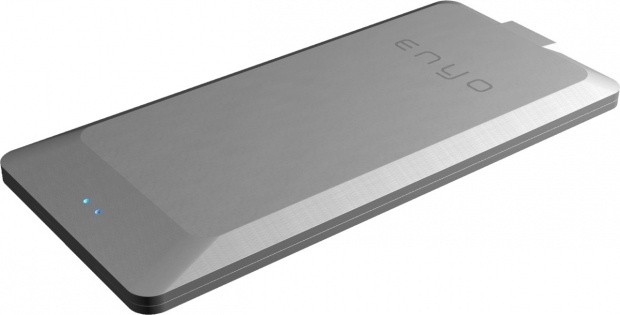 The OCZ Enyo offers an array of state-of-the-art features for prosumers looking to take advantage of the SuperSpeed 5Gbps port. In addition to cutting-edge performance, the Enyo offers superior power management and lower CPU utilization far surpassing the capabilities of external hard drives. With up to 260MB/s read and 200MB/s write capabilities, OCZ makes storage ten times faster than USB 2.0 speeds, while also being backwards-compatible with legacy ports.
Designed with ultimate portability in mind, the Enyo features a sleek, anodized aluminum housing and will be available in 64GB, 128GB, and 256GB capacities. Enyo USB 3.0 SSDs cut the time it takes for fast transferring of HD video, graphics, and music, and are plug-and-play without additional external power requirements.
Enyo USB 3.0 Portable SSDs will begin shipping this now and will be available through OCZ's extensive worldwide channel.
To view the Enyo USB 3.0 Portable SSD, please
CLICK HERE
.
About OCZ Technology Group, Inc.
Founded in 2002, San Jose, CA-based OCZ Technology Group, Inc. ("OCZ") is a leader in the design, manufacturing, and distribution of high performance and reliable Solid State Drives (SSDs) and premium computer components. OCZ has built on its expertise in high-speed memory to become a leader in the SSD market, a technology that competes with traditional rotating magnetic hard disk drives (HDDs). SSDs are faster, more reliable, generate less heat and use significantly less power than the HDDs used in the majority of computers today. In addition to SSD technology, OCZ also offers high performance components for computing devices and systems, including enterprise-class power management products as well leading-edge computer gaming solutions. For more information, please visit: www.ocztechnology.com.
Last updated: Apr 7, 2020 at 12:01 pm CDT