Numonyx Introduces New Phase Change Memory Devices
Numonyx B.V. introduced a set of innovative products today based on the new class of memory technology called phase change memory (PCM). The new devices deliver higher performance, endurance and simplicity for wired and wireless communications, consumer electronics, PCs, and other embedded applications.
The new embedded memory products blend many attributes associated with flash memory, as well as RAM and EEPROM, while delivering new capabilities in a single device. Introduced as the newly branded Numonyx Omneo PCM, today's new products promise up to 300 times faster write speeds and ten times more write endurance than today's flash memory.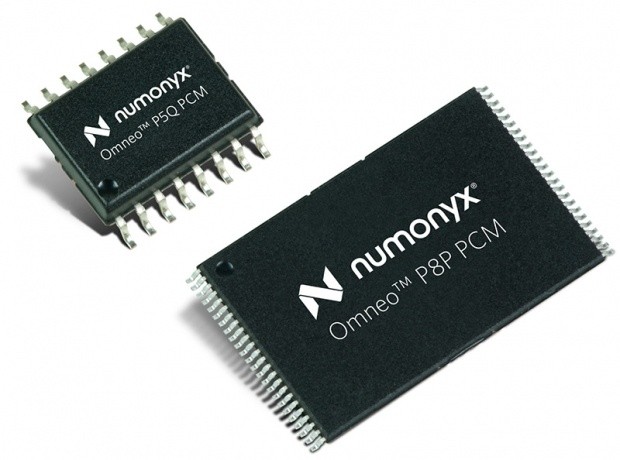 "Not since flash memory was introduced in 1988 has the industry seen a new, high-density memory technology," said Glen Hawk, Numonyx vice president and general manager of the Embedded Business Group. "Today, designers have to use different memory types for code storage and execution, as well as data storage. Now, with Numonyx Omneo PCM, they have a simple, one-device solution."
Today's product introductions include support for the serial peripheral interface (Omneo P5Q PCM) as well as parallel NOR interface (Omneo P8P PCM). Both take full advantage of the benefits of the new PCM technology while offering compatibility with these industry standard interfaces.
Numonyx Omneo P5Q PCM
Omneo P5Q PCM is a 90nm device delivering high-speed SPI-compatibility.
The Omneo P5Q PCM combines serial NOR flash memory and EEPROM technology benefits into one by delivering byte alterability, faster programming times and greater endurance.
Byte alterability provides for easier data manipulation and software simplification by eliminating the need for erasing large blocks of data.
The over-write or "no-erase" function enables engineers and designers to simplify software designs and accelerate system performance, improving the time it takes to program a device by up to 300 times. The new Omneo P5Q product is able to write up to ten times more data than flash memory by delivering one million write cycles.
Numonyx Omneo P8P PCM
The Numonyx P8P PCM is the second release of the 90nm 128Mb parallel product by Numonyx. The first release was introduced in December 2008.
The first version supported 100,000 write cycles. The new release has been improved to achieve one million write cycles. Both products are available now in volume.
Numonyx Omneo is "Everywhere, New"
Numonyx also unveiled a new brand name for its phase change memory products created for embedded applications - Numonyx Omneo PCM. The applications-specific brand approach supports the company's effort to develop memory solutions that are purpose-built to meet specific customer applications needs by segment.
"Because PCM acts differently and solves the unique problems of various segments, Numonyx decided to communicate the uniqueness of our new products with distinctive brand names," said Raymond Solone, senior director of corporate marketing at Numonyx. "With the new features and benefits PCM technology provides our customers, we sought a product brand strategy that directly connects the value PCM brings to the applications and segments that can take advantage of the technology. PCM is a extraordinary memory technology."
The Omneo brand name was selected to represent the inherent ability of PCM to fit everywhere in the embedded design world ("omni") and to showcase this new class of memory ("neo"). From consumer electronics to industrial applications, the Omneo family of PCM products are built to enable innovative approaches to embedded memory system designs as well as offer long-term scalability and reliability.
Last updated: Apr 7, 2020 at 12:01 pm CDT