Corsair Launches Flash Survivor GTR, Combining Toughness with Performance
- 32GB and 64GB drives feature tough aluminum shell and quad-channel design for maximum performance and durability -
FREMONT, California, April 19, 2010 - Corsair®, a worldwide leader in high-performance computer and flash memory products, today announced the 32GB and 64GB Flash Survivor™ GTR USB flash drives. These drives share their high-performance lineage with the award-winning Flash Voyager® GTR, and are among the fastest, most rugged USB flash drives available today.
The Flash Survivor GTR USB drives use the same quad-channel technology employed in the recently announced Flash Voyager GTR series. This enables the Flash Survivor GTR drives to achieve read speeds of up to 34MB/sec and write speeds of up to 28MB/sec. In head-to-head testing in the Corsair Labs (details can be found
here
) the GTR architecture produced substantial performance gains over typical high capacity USB flash drives.

In addition to ultra-high performance, Flash Survivor GTR drives are also extremely durable. Each drive is encased inside an aircraft-grade aluminum shell, which makes it practically indestructible. In independent reviews, Flash Survivor drives have been dropped, battered with hammers, baked, boiled, frozen, zapped in a microwave, and even run over by SUVs, and they still come back for more! Each drive is also fitted with a shock-dampening collar and EPDM seal, which provides water-resistance to a depth of 200 meters.
"Corsair's Flash Survivor drives are considered by many to be the most rugged USB drives in the world, and with the new Flash Survivor GTR series, we have created exceptionally fast, durable USB drives," said Jim Carlton, VP of Marketing at Corsair. "Flash Survivor GTR drives are ideal for enthusiasts and creative professionals who need rapid access their portable music, videos and important data, without the worry that data could be lost due to physical damage or the elements."
Corsair Flash Survivor GTR drives are available immediately from Corsair's worldwide channel of authorized resellers and distributors, in capacities of 32GB and 64GB. They are supplied with a 10 year limited warranty, and are backed up by Corsair's highly regarded customer service and technical support.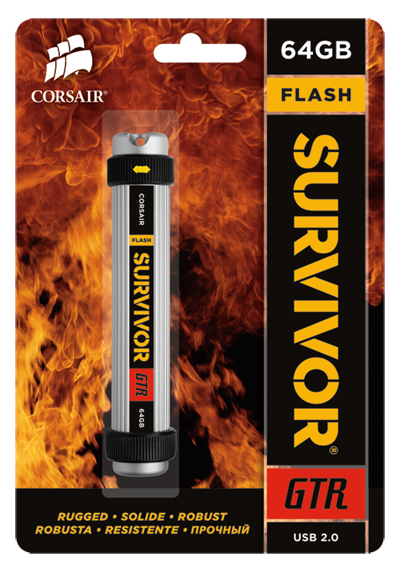 For more information on Corsair Flash Survivor GTR drives, please visit our Flash Survivor
product page
.
Images of the Flash Survivor GTR can be downloaded from
here
.
About Corsair
Founded in 1994, Corsair specializes in premium, high-performance peripherals and components for personal computers. Corsair's award-winning products are the delight of the world's most demanding hardware enthusiasts. For more information, visit www.corsair.com.
Last updated: Apr 7, 2020 at 12:01 pm CDT