ASUS Introduces New Graphics Cards with World of Warcraft Trial and Collectibles
ASUS today launched a new co-op campaign with NVIDIA, which features a promotion in association with Blizzard Entertainment to include a 14-day trial for Blizzard's popular massively multiplayer online role-playing game World of Warcraft, along with a collectible door hanger, with select ENGT200 Series graphics cards.
ASUS ENGT200 Series graphics cards are built with superior design acumen to provide the most compelling visual experience available to gamers. These ASUS limited edition graphics cards are up the ante with NVIDIA 3D Vision, making great use of GeForce GPUs. Using special glasses and 120Hz LCD displays or compatible HDTVs, NVIDIA 3D Vision tantalizes gamers with ultra-realistic graphics, vivid stereoscopic images, and immersive depth of field. Up to 400 PC games work out-of-the-box with NVIDIA's 3D Vision, including games such as Resident Evil 5, Borderlands, Batman: Arkham Asylum, Star Trek D-A-C, Dark Void, and Blizzard Entertainment's World of Warcraft: Wrath of the Lich King.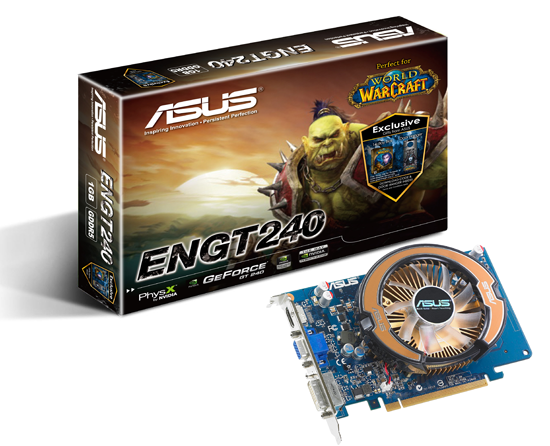 ASUS's GamerOSD lets gamers overclock the GPU while gaming through an onscreen interface, allowing them to boost performance when they need it most. The application also displays frames-per-second status so gamers can keep track of performance gains and test different settings under actual conditions. GamerOSD also lets players capture screenshots and video so they can share their proudest gaming moments.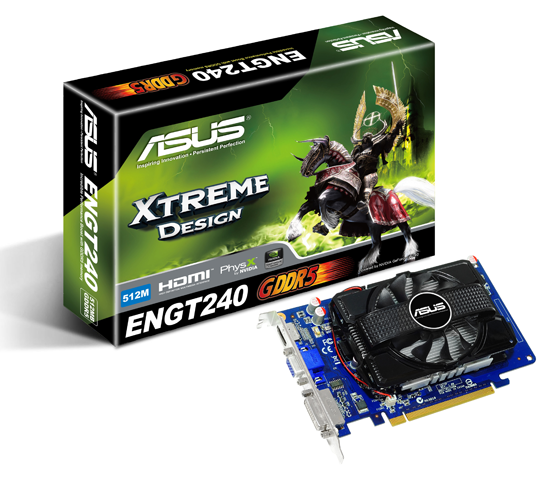 Five models -- the ENGTS250 DK/DI/1GD3/W, ENGTS250/DI/1GD3/WW, ENGTS250 DK/DI/512MD3/WW, ENGTS250/DI/512MD3/WW, and ENGT240/DI/1GD5/WW -- are bundled with a World of Warcraft 14-day trial offer and collectible door hanger, featuring artwork from the game.
ENGT240 Series - Trusty Battle Ally with Uncompromised Reliability
ASUS ENGT240 Series graphics cards not only enable perfect gaming, but also care-free daily computing. They feature double-sealed fans that are virtually impervious to dust and thus capable of the better cooling intense gaming calls for. Most importantly, these fans last up to 10,000 hours - an incredible 25% longer than conventional fans.
As graphics cards increase in size and weight to accommodate these features, they also suffer increased stress that can result in bent or snapped boards. ASUS counters this with the world's first GPU Guard, an exclusive technology originally utilized in military-grade applications. GPU Guard effectively doubles reinforcement to prevent cracks caused by strain and improves shockproofing in the event a gaming rig takes a fall during transportation.
ASUS ENGT240/DI/512MD5
Conventional graphics cards come with overcurrent protection controllers. However, if these fail, overcurrents can seriously damage components and possibly result in significant or total loss of performance. ASUS ENGT240 Series graphics cards eliminate excessive and dangerous temperature rises in conductors with multiple sets of on-board input fuses. When an overcurrent occurs, one or more of these sets interrupts the electrical current to stop disaster in its tracks. ASUS ENGT240 Series graphics cards also come with an EMI shield, cutting EMI emissions given off and received by up to 66%*. This shielding has been put through stringent testing that's 30% more rigorous than industry standards to ensure better signal stability and clearer images.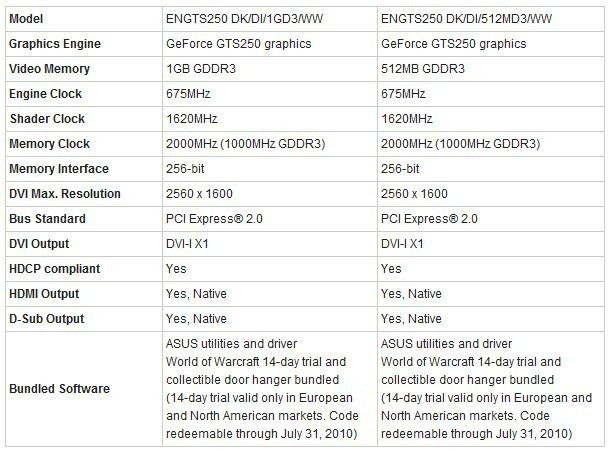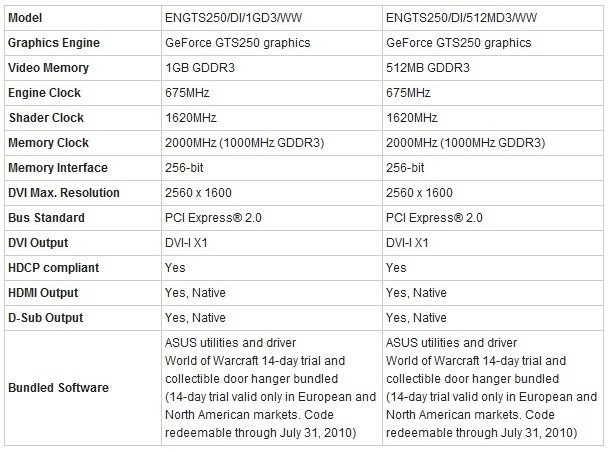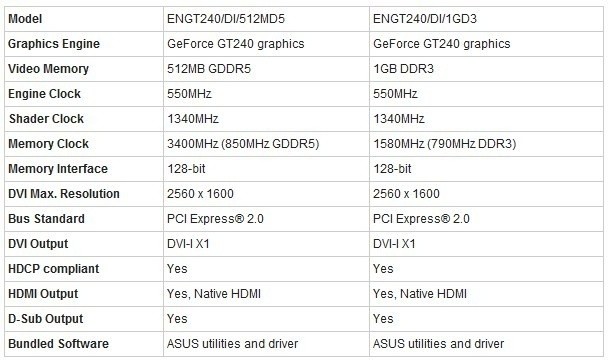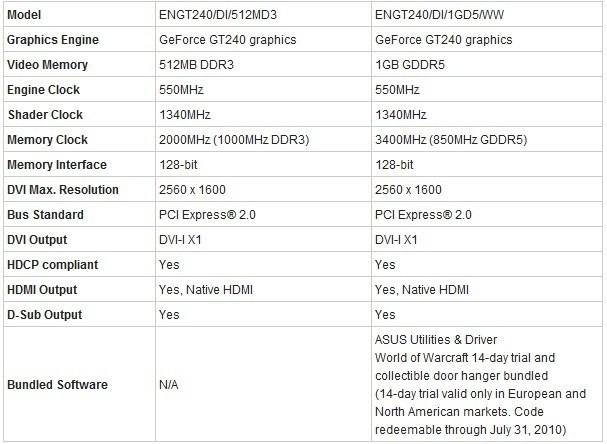 Last updated: Apr 7, 2020 at 12:01 pm CDT