Silicon Power's Touch 830 - Featuring Northern European Design, Stainless Steel Casing and Elegant Looks
March 9, 2010, Taipei, Taiwan ~ Silicon Power, one of the world's leading flash memory manufacturers announced today (3/9) the "Metal Aesthetic" Touch 830. The design of Touch 830 inherits Silicon Power's Touch series good looks, class and ultra thin design. However, the new Touch 830 has been given an extra touch of Northern European flavor. Combining art and technology, its design features icy-silver casing, natural looks and simplicity, it complies with Europe designer's conception of "A Mature Design is the Perfection Design". The simplicity and humble design of Touch 830 reflects the Northern European's way of life, attracting just the right amount of attention while keeping it simple and elegant!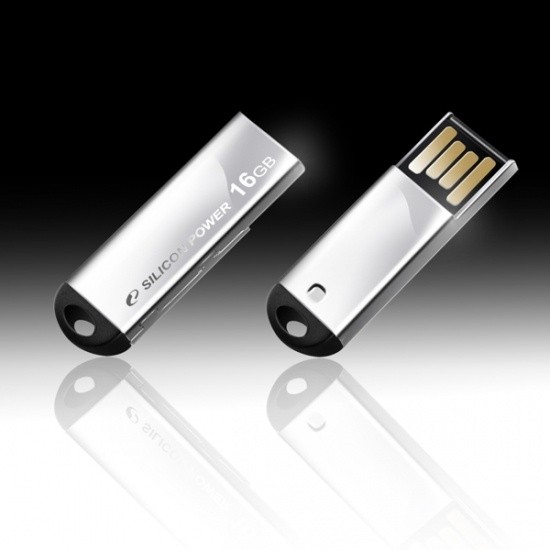 For the perfect combination of looks and function practicality, the Touch 830 utilizes a reinforced one-body stainless steel casing construction. The one body construction allows for a small and rugged design. Practicality wise, the Touch 830 is plug and play compatible, users need not push lids, slide lids or supply additional power to operate. It is light, ultra small and comes with a jewelry lace for users to carry. Especially suited for people constantly on the go, Silicon Power's Touch 830 is available up to 16 GB of storage space so users can store data at will. For users who fancy the Northern European styling, Silicon Power's Touch 830 is the perfect storage you just got to get your hands on!
All Silicon Power USB flash drives have been certified to be compatible and compliant with Windows 7. They are also in compliance with European's RoHS Directives and come with high quality and Lifetime warranty!
Features
- Stainless steel casing for a distinct shine
- Full protection from water, dust and vibration
- Utilizes Chip On Board (COB) package technology
- Plug and play compatible (extra power not needed)
- In compliance with European's RoHS Directives
- Free application software SP Widget for users to download (featuring 7 commonly used functions)
- Lifetime warranty
Specifications
- Dimension: 35.0 x 12.3 x 3.5 mm +/-0.3mm
- Weight: 4 g
- Interface: USB2.0/ 1.1 compatible
- Supported operating system: Windows 7, Windows Vista, Win XP, Win 2000, Mac 10.3.X above, Linux 2.6.X above
- Operation temperature: 0°C ~ 70°C
- Storage temperature: -40°C ~ 85°C
- Capacity: 2GB, 4GB, 8GB, 16GB
- Color: Silver
About Silicon Power
Silicon Power Computer & Communications Inc., founded by a group of specialists with more than 20 years experience in the field of international trading, global marketing, technical know-how of flash data storage products, is the world's leading manufacturer of flash memory cards, USB flash drives, DRAMS, and card readers. We are also the initiator to offer Lifetime Warranty service both for the Flash Memory Card series and USB Flash Drive products. At the heart of Silicon Power, it exists a strong atmosphere of "Sharing, Caring, and of being Trustworthy." These are our finest commitments at the core. Recognized and supported in over 90 countries, Silicon Power provides fast, international lifetime service and superior products. Silicon Power makes a remarkable and successful achievement in the global community. The company is headquartered in Taipei and has established branches worldwide including the Netherlands and Japan.
Last updated: Apr 7, 2020 at 12:01 pm CDT