6 Major MSI Notebook Series Captivate CeBIT 2010
MSI unveiled a lineup of six major series of notebooks consisting of nearly 30 laptop models in Booth C38, Hall 17 at CeBIT 2010. CeBIT, the world's largest international computer show, is running from 2-6 March. Among MSI products are the Wind U160 and X-Slim X620 recipients of Germany's iF Product Design Award for 2010, the GT660 and the 3D GE600, gaming notebook that boast superb sound and visuals designed in collaboration with one of the world's top sound system manufacturers, as well as the world's most advanced 10" full-color, touch-sensitive, dual-screen e-book.
Flooring 'em at CeBIT
With substantial growth expected in the world notebook market in 2010, MSI has unleashed its 23 years of experience in design and technology in the development of the laptops being displayed at CeBIT 2010 in Hanover, Germany. MSI President Joseph Hsu explains that MSI notebook sales continued to grow last year despite the global economic slump and in view of this year's much-anticipated economic recovery, MSI is working harder and is even more resolved to "insist on the best," exhibiting six major series consisting of nearly 30 models of its latest and greatest notebooks at CeBIT 2010. MSI is confident that it will see 40-50% growth this year, making it one of the world's top 10 names in notebook computers.
Hsu emphasized that in 2008, MSI introduced the Wind U Series, the world"s first 10" netbook, and at CeBIT 2009, it unveiled the world's first ultra-slim CULV notebook-the X-Slim X340. At CeBIT 2010, MSI has continued in its fine tradition of flaunting the fruits of its R&D labors.
[img]06[/img]
Chic and innovative
Hsu points out that for those who need high end, high performance notebooks, MSI is displaying its newest gaming laptops, including the earth-shaking GT660, equipped with Intel Quad Core i7 Processors. In the ultra-thin X-Slim Series this year, MSI is showing off new laptops with improved performance, extended battery life, and outstanding multimedia functions, such as the X360, the first notebook in the world with Intel Arrandale-ULV, and the X620, which not only boasts excellent audio and visuals, it received Germany's iF Product Design Award for 2010. As to netbooks, MSI was able to solve a problem that had plagued the industry-batteries in slim computers didn't last long. The solution: the Wind U160 with 15 hours of battery life.
Hsu adds that the C Series offers the most stylish design and best performance to price ratio. At the exhibition, MSI is promoting a number of models that come with Intel's latest high performance Core i5 Processor, including the CR720 and CR620. For the businessperson and individuals that are particular about looks, in addition to the 10" U160, 13" X360, and 15.6" X620 mentioned above, the dimensions and extended battery life of MSI's ultra-slim notebooks make them the perfect choice for the businessperson on the go. MSI is also proud to introduce the stylish new "racecar" F Series and the P600 both of which are making their debuts at CeBIT. They are expected to created quite a splash among notebook enthusiasts and the media.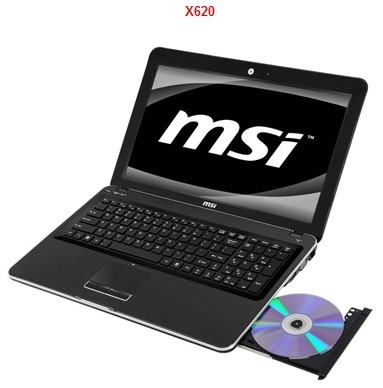 Leading the way with five top technologies
MSI Marketing Director Sam Chern adds that MSI's theme at this year's CeBIT is "superior performance and multimedia capabilities," symbolizing MSI's five major innovative technology trends, including MSI's exclusive TDE overclocking and cooling technology, GPU Boost smart power management technology, Cinema Pro high resolution image technology, advanced stereo technology, and award-winning designs for notebooks that are attractive, fashionable, slim, and light.
Chern stresses that the technologies are important to MSI as it develops beautiful laptops, environmentally friendly, extended life batteries, superior multimedia capabilities, and excellent display effects. These five leading technologies have been key in the almost 30 models of notebooks ranging from 10" to 17" that MSI is displaying at this year's show.
Stunning multimedia
Chern explains that with the goal of attaining the ultimate in sound and visuals, MSI collaborated with one of the world's top names in sound systems to develop the GT660, a gaming laptop making its debut at this year's CeBIT. The GT660 with LED light display technology, so whether you are listening to music, watching a film, or engrossed in a riveting video game, the LED light display technology will be there to help maximize the experience.
Chern says that in addition to MSI's strong lineup of notebooks, a number of conceptual products with leading technologies are also being displayed at the exhibition, including its large-screen 3D notebook, being shown for the first time, and its full-color, touch-sensitive, dual-screen e-book which attracted a great deal of attention during January's CES show. For the latest information on MSI at the 2010 CeBIT computer show, please go to http://event.msi.com/cebit_2010 .
Information about MSI's booth at CeBIT 2010, Hanover, Germany
Time: March 2-6, 2010
Location: Hall 17, Booth C38
Last updated: Apr 7, 2020 at 12:01 pm CDT