Aussie Device to Monitor Broadband
Melbourne, Australia - 18th January 2010: Enex TestLab, Australian based leading global technology testing company, today announces the immediate roll out of eMetric, a low-cost hardware device that discretely and precisely measures network performance.
Australia's first mass-producible global broadband performance testing product, eMetric is designed to automatically measure and report on a range of critical business networking and broadband performance issues. eMetric can test factors that include network performance (single and multi threaded download and upload speed); network latency; network availability; webpage load speeds; quality of service; and remote network monitoring (end-user and service provider).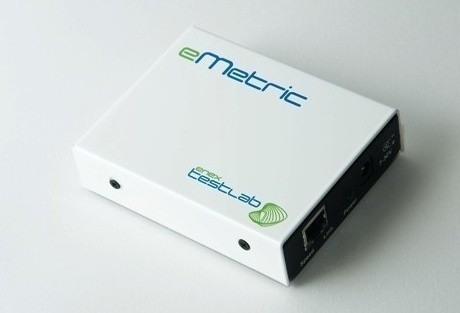 Enex Testlab's eMetric is applicable to any type of network, even wireless and satellite, and the number of ways it can be applied is vast. Examples range from secure corporate networks - testing for bottlenecks, to national ISP high speed broadband projects - compliance testing end-user quality of service and performance metrics.
Matt Tett, director, Enex TestLab says; "Something that repeatedly arose working on networking and broadband projects over the years is that, until now, broadband users, particularly consumers, have been unable to access an accurate test facility that can independently test, analyse and report on their Internet performance. eMetric addresses this. And ensures independent third-party compliance and assurance that network investors funding is delivering the commitments made by the solution providers and operators."
The beauty of eMetric, he adds, "is that eMetric units can be readily distributed to large end-user sample group. They are low-cost, remotely controlled, highly stable and always on. It means much more accurate insights into broadband and network performance can be achieved. The numbers of units deployed could easily reach into the thousands. Imagine the value of this amount of data."
Even in the broadband realm alone, the implication of such insight is vast. From a government viewpoint, eMetric can help ensure public money is appropriately invested in network infrastructure and that the stakeholders involved are consistently delivering services. From an end user or ISP point of view eMetric can help ensure services levels are appropriate and charged fairly. ISPs can use eMetric's reports to independently verify and demonstrate the consistent levels of quality service delivery and performance over those who run highly contended services.
eMetric Proving Popular:
eMetric units began being distributed as part of a three month pilot with 40 participating ISPs and the Department of Broadband Communications and the Digital Economy (DBCDE). It is expected that the data gathered will help ISPs and the Department to improve consumer broadband services.
Tett says there has been quite a bit of interest in eMetric from international organisations as well. "We are in discussions with Ofcom in the UK, ETRI, KT in Korea and NTT in Japan, with the hope that eMetric hardware could used to assist these agencies and service providers to ensure public monies are well spent and sufficient independent data and intelligence is collected from a technology neutral perspective across high-speed broadband network services."
About ENEX Test Lab
Enex TestLab was founded in 1989, originally as part of RMIT University, Australia, and has grown into a commercial testing facility used by a global client base. The company provides independent testing and reporting services designed to significantly lower its clients' risk and maximise their return on investment when researching, procuring, developing, marketing, or introducing products. Enex TestLab has eight specialist delivery groups within the organisation, that provide consultancy, testing and reporting services on their particular area of expertise, including: hardware, software, systems, security, usability & accessibility, gaming/wagering, physical/materials, publishing media & communications.
Last updated: Apr 7, 2020 at 12:00 pm CDT