Two New ICY BOX Enclosures with USB 3.0 and a PCI-E-Card for USB 3.0
Mon, Dec 7 2009 11:13 PM CST
Two New ICY BOX Enclosures with USB 3.0 and a PCI-E-Card for USB 3.0
Start with ICY BOX into a Superfast Future
The new ICY BOX IB-250StU3-B is an external enclosure for a 2.5" SATA HDD. The larger ICY BOX IB-318StU3-B is for a 3.5" SATA HDD. Both offer USB 3.0 with a theoretical data transfer speed of 5.0 GBit/s. That's some ten times the USB 2.0 speed of 480 MBit/s. Those who are used to store greater amounts of data like from Blu-ray discs will appreciate an ICY BOX with USB 3.0. Precondition is a USB 3.0 cable as well as a host with a USB 3.0 controller. As computers with USB 3.0 controllers are still quite rare, ICY BOX offers a solution that provides that controller on a PCI-E-card. It is capable to connect printers, USB-sticks and the like too. Thus there is no need to wait for those new computers. As USB 3.0 is downward compatible it is possible to connect devices which offer "only" USB 2.0.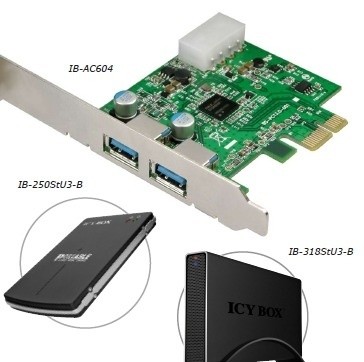 The age of the superfast USB has begun.
That means that further ICY BOX products with USB 3.0 will follow soon. The next ones will be a docking station for 2.5 and 3.5" HDDs and a host adapter for laptops.
PricesIB-318StU3-B:
recommended retail price incl. VAT 45,50
IB-250StU3-B:
recommended retail price incl. VAT 32,90
IB-AC604:
recommended retail price incl. VAT 39,90
Key features and technical dataIB-318StU3-B
Premium aluminium case
HDD capacity 3.5" up to 1 TB
Supports: PC (Windows XP/Vista, Win 7)
Horizontal or vertical with stand
Low noise, fanless design
Hot Plug & Play and Hot Swap
Transfer rates: USB 3.0 up to 5 Gbit/s
Downwardly compatible with USB 2.0 (480 Mbit/s) and 1.1
On-/Off switch
IB-250StU3-B:
Compact aluminium case
With pocket
Supports 2.5" SATA HDD
USB 3.0 up to 5 Gbit/s
LED for power and HDD access
Plug & play
Downwardly compatible with USB 2.0 (480 Mbit/s) and 1.1
Supports Windows XP/Vista/7
IB-AC604:
PCI Express single-lane (x1) revision 2.0 (5 Gb/s)
USB 3.0 Revision 1.0, transfer rate up to 5 Gb/s
Chipset: NEC PD720200
Supports simultaneous operation of multiple USB 3.0, USB 2.0 and USB 1.1 devices.
With 2 external USB 3.0 ports
Each USB 3.0 port supplies +5V / 900mA power output
4pin power connector for receiving extra power from system
Hot-swap: connect/disconnect devices without powering down the system
Supports USB data transfer rate of 1.5/12/480/5000 Mb/s
Compliant with xHCI (eXtensible Host Controller Interface) Revision 0.95
Support External USB HDD, USB Pen-drives, CD-R, Printer, digital camera and video camcorders
Supporting system Windows XP/Vista/7 (32/64-bit)

Last updated: Apr 7, 2020 at 12:00 pm CDT
PRICING: You can find products similar to this one for sale below.

United States: Find other tech and computer products like this over at Amazon.com

United Kingdom: Find other tech and computer products like this over at Amazon.co.uk

Australia: Find other tech and computer products like this over at Amazon.com.au

Canada: Find other tech and computer products like this over at Amazon.ca

Deutschland: Finde andere Technik- und Computerprodukte wie dieses auf Amazon.de
Related Tags