HIS introduces the HIS 5970 2GB GDDR5, the world's fastest GPU in the market offering the power of two 5800 GPUs and 3200 stream processors!
Now bundle with DiRT 2 Game Coupon and HIS Gamer's Tool Kit!
Hong Kong - Nov 18, 2009 - Today HIS unleashed the revolutionary new HIS Radeon™ HD 5970 2GB GDDR5. Building on the success of HIS 5800 series, HIS 5970 offer the power of two 5800 GPUs and 3200 stream processors on a single board. It delivers groundbreaking graphics performance along with the most advanced feature set in the graphics industry.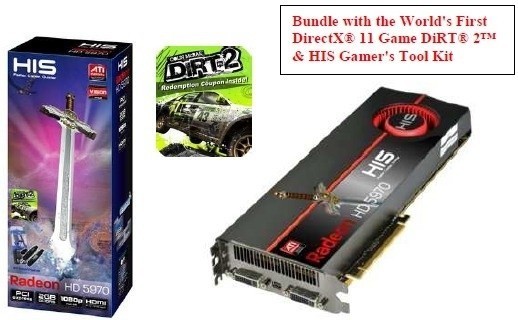 Powered by the top-of-the-line 5970 GPU, HIS Radeon™ HD 5970 2GB GDDR5 accelerates PC gaming with more than 4 teraFLOPS computing power! Running at 725MHz core clock speed and 4Gbps memory clock speed, the, HIS Radeon™ HD 5970 ensure extreme game play at high resolutions and maximum settings. It delivers full support for Microsoft DirectX® 11 graphics and compute functionality. Besides, it features an architecture tailored to excel with DirectCompute 11 (Shader
Model 5.0) and OpenCL, taking ATI Stream functionality to next level.
Peter Yeung, Global Marketing Director for HIS later explained the latest advances, " The HIS 5970 is the fastest graphics card on the planet, which delivers an unrivalled HD gaming experience that you can play the latest, most demanding HD titles like never before. Coming up there will be substantial game titles in the market that take full advantage of Radeon™ DirectX 11 graphics card, like Colin McRae™ and DiRT® 2™. The HIS Radeon™ HD 5970 Series brings the stunning racing experience to life and puts you in the driver's seat.
" What's more? HIS Radeon™ HD 5970 series introduces ATI Eyefinity Technology, allowing gamers to expand their immersive experience over multiple displays. With startling panoramic capabilities it give you a staggering sense of height and speed. Along with support for Windows XP and Vista, Radeon™ HD 5970 comes with fully complaint support for Windows 7. Also ATI Stream technology enables general purpose GPU computing on HIS graphics card. That means you can run some
demanding software faster than ever before."
Featuring the innovative 40nm manufacturing process technology, the HIS Radeon™ HD 5970 reduces power consumption dramatically while delivering many technology breakthrough. It offers superb scalability with it's CrossFireX™ multi-GPU technology. You can multiply and conquer every gaming titles in the market!
The World's Most Powerful and Advanced GPU
With more than 4 teraFLOPS powering dual 2nd generation TeraScale engines, the ATI Radeon™ HD 5970 delivers unprecedented graphics performance with latest and most demanding games. Gamers can even increase the gaming performance up to 180% with ATI CrossFireX™ Technology in dual-mode with quad GPU support!!!
ATI Eyefinity Technology
Run up to 3 displays from a single graphics board and expand your gaming field of view across all displays. Enjoy the ultimate immersive gaming experience with innovative "wrap around" multi-display capabilities.
* ATI Eyefinity technology requires one panel with a DisplayPort connector to enable the third display. DisplayPort to DVI dongle (not included) is required for panel with DVI connector.
Microsoft DirectX® 11 Support
ATI Radeon™ HD 5900 Series GPUs fully support Microsoft DirectX® 11, enabling the following:
· Tessellation is now available to PC developers for real-time rendering with ultra-realistic characters and an incredible level of detail with 3D images
· HDR Texture compression delivers an intense level visual detail without increasing graphics memory footprint with efficiency and incredible image quality
· Multi-threading support for DirectX® 11 accelerates rendering by leveraging all the CPU cores for overall faster gaming performance
· DirectCompute improves PC performance by taking on some or all of a DirectX 11-enabled application's processing load, freeing up the computer's
ATI Stream Technology
Thanks to the ATI Stream Technology, developers can now leverage AMD GPUs and CPUs for enhanced application performance and user experience. The massively parallel, programmable GPU architecture delivers dramatic performance and power efficiency. ATI Stream technology is a set of advanced hardware and software technologies that enable AMD graphics processors (GPU), working in concert with the system's central processor (CPU), to accelerate many applications beyond just graphics. This enables better-balanced platforms capable of running demanding computing tasks faster than ever.
Microsoft® Windows 7®
Enjoy all the benefits of Microsoft Windows 7® with ATI Radeon™ HD 5900 Series GPUs which are designed to provide an exceptional experience for the upcoming operating system. HIS Radeon graphics chips and Windows 7 graphics driver draws Windows incredibly efficiently - helping to save system memory and enable a superior Windows experience. The Windows 7 Aero desktop was designed using the DirectX 11 API, for which ATI 5900 Series of products provide full support.
[img]08[/img]
About HIS
HIS - Hightech Information System Limited is an internationally acclaimed graphics cards company. Time and time again, HIS were compared and tested by hundreds of worldly renowned critics. The results are phenomena, HIS have proven to offer far superior, cooler, quieter, and faster graphic cards than any other leading rivals. Up to the fourth quarter of 2008, HIS has won over 800 awards with ATI graphic solution from major media worldwide. HIS is being recognized by providing performance leading and award-wining products.
Last updated: Apr 7, 2020 at 12:00 pm CDT