Taipei, Taiwan, 8th August 2019 - GIGABYTE, a key partner in bringing the AMD EPYC processor to the market and a systems builder with one of the most complete AMD EPYC processor platform lineups, is proud to announce the first wave release of our products based on the new AMD EPYC 7002 Series Processor. GIGABYTE's new systems will provide customers with incredible compute, I/O and bandwidth capability - designed to meet the huge demand for more compute in big data analytics, HPC and cloud computing.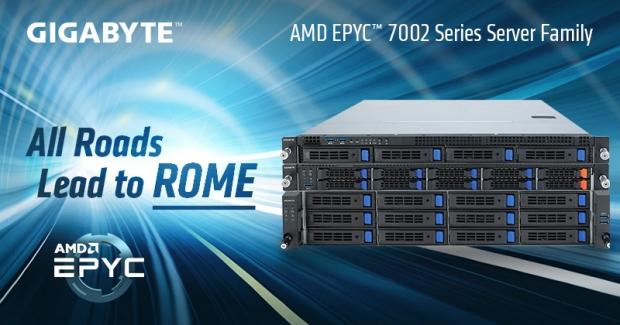 GIGABYTE & AMD: Great Partners For EPYC
Being on the forefront of innovation, GIGABYTE saw the potential of the 1st Gen AMD EPYC Processor before it first came to the market in 2017, and committed to developing a full line-up of server systems based on the 1st Gen EPYC. In the resulting past two years, GIGABYTE has released a total of 18 general availability 1st Gen EPYC server systems and motherboards, and together with our channel partners has delivered major deployments of these systems to cloud, web and HPC customers, helping them to realize the immense value offering and performance benefits of AMD EPYC in their data centers.
GIGABYTE has now built on our extensive experience and expertise with the 1st Gen EPYC and is ready to deliver the next generation of AMD EPYC to our customers, with a total of 28 2nd Gen AMD EPYC Processor systems planned for general availability release by the end of 2019 - almost double the number platforms GIGABYTE has released for the first generation.
Introducing the AMD EPYC 7002 Series Processor
The new AMD EPYC 7002 Series Processors are the world's first 7nm x86 data center CPUs and will power the world's most demanding workloads with breakthrough CPU performance. Delivering a comprehensive, consistent feature set of I/O, memory and security features, across 8 to 64 "Zen 2" cores, the 2nd Gen AMD EPYC Processors deliver agility from a balanced set of features. The 2nd Gen EPYC is also the first PCIe 4.0 ready x86 server CPU, providing an I/O bandwidth twice of PCIe Gen 3.0, and allowing you to integrate the next generation of devices such as high speed networking cards, ultra-fast SSD drives or other PCIe Gen 4.0 capable devices. The 2nd Gen EPYC also features faster DDR4 channels allowing memory modules of up to 3200MHz to be used. AMD EPYC 7002 Series Processors are expected to deliver up to twice the performance-per socket 1 and up to four times peak FLOPS per-socket 2 over AMD EPYC 7001 Series Processors.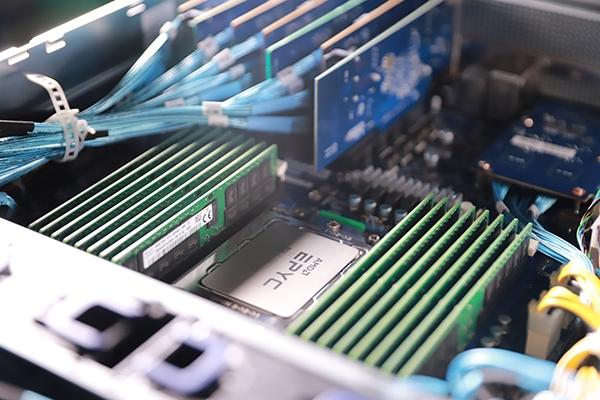 GIGABYTE's AMD EPYC 7002 Series Server Family
GIGABYTE is the systems vendor that will have one of the most complete AMD EPYC 7002 Series product lineups on the market, including:
R-Series Rackmount Servers - 1U and 2U general-purpose systems, offering the best balance of compute, memory, storage and expandability.
H-Series High-Density 2U 4 Node Servers - combines 4 hot-pluggable nodes in a 2U chassis, offering extreme CPU compute density excellent for HPC or cloud computing
G-Series GPU Servers - 1U, 2U or 4U systems offering industry leading GPU density due to excellent thermal and mechanical design, and designed for AI & deep learning, VDI or video streaming workloads.
GIGABYTE will release our complete AMD EPYC 7002 Series product lineup in several different waves over the second half of 2019. For the first wave releasing today, GIGABYTE is proud to present the following systems to our customers: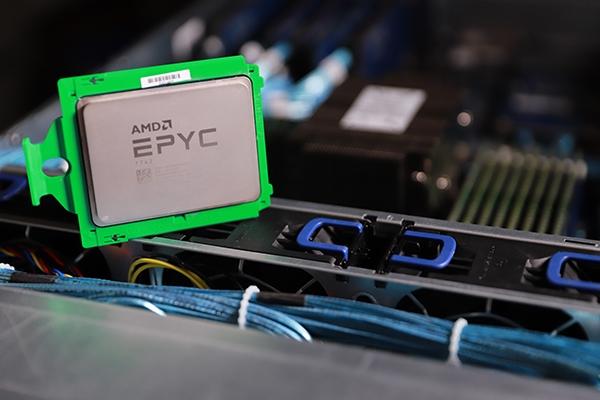 R152 / R272 Series Single Socket Rackmount Servers
Buy only what you need to support your enterprise business application requirements while achieving performance previously only possible with a dual socket system. GIGABYTE's R152 and R272 Series Server Systems offer "no-compromise" single socket server solutions - ideal to combine with AMD EPYC massive value single socket CPU SKUs featuring up to 64 cores and 128 threads, and featuring 16 x DIMM slots for up to 2TB of DDR4 memory, a variety of 2.5" or 3.5" NVMe / SATA / SAS drive front storage configurations and a flexible number of PCIe Gen 4.0 expansion slots - they provide a high performance, 1-socket solution designed to increase server utilization rates and lower acquisition costs, enabling organizations to right-size for key datacenter workloads without feature compromise, and unlocking capabilities and performance previously available only in 2-socket architectures. Also available for system builders is GIGABYTE's MZ32-AR0 motherboard which forms the base of the R152 and R272 server series.
R182 / R282 Series Dual Socket Rackmount Servers
Combining dual 2nd Gen EPYC processors for up to 128 cores and 256 threads per system, 32 DIMM slots for up to 4TB of DDR4 memory, a range of different NVMe and SATA / SAS storage configurations and with a large and flexible number of PCIe Gen 4.0 expansion slots including an OCP 3.0 slot, GIGABYTE's R182 / R282 Series Server Systems offer a balanced architecture of compute, memory and storage for optimum performance to support demanding workloads. They are ideal to build software defined and virtualized infrastructures, support high performance applications such as database analytics or build an all flash storage array.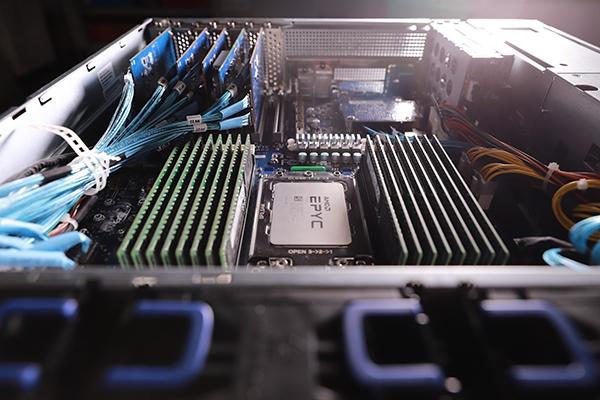 H262 Series 2U 4 Node (Dual Socket) Servers
GIGABYTE's AMD EPYC H-Series 2U 4 Node Server Systems have already gained widespread praise and customer approval worldwide, and are the systems of choice for several global HPC system providers. Why? As global server authority Serve The Home explains, they are simply "...the densest possible air-cooled AMD EPYC platforms on the market. Using the 2U4N chassis with 8 x EPYC Rome CPUs and leaving some room for additional networking... one will be able to fit up to 10,240 cores and 20,480 threads in 40U of rack space...
But the popularity of our H-Series servers stems not only from providing an extremely dense compute configuration in a compact footprint, but also helping to greatly reduce TCO - for example, the chassis features shared cooling fans and power supplies to help reduce energy consumption and reduce maintenance burden, and includes features such as a CMC module to simplify management and reduce cabling for management of all four nodes. The advantages are clear - GIGABYTE's H-Series systems "...deliver virtually identical performance to four 1U servers while reducing rack space by 50%, power consumption by 4%, the number of power supplies by 75%, and the number of base power/ 1GbE/ management cables by 56% (7 v. 16.)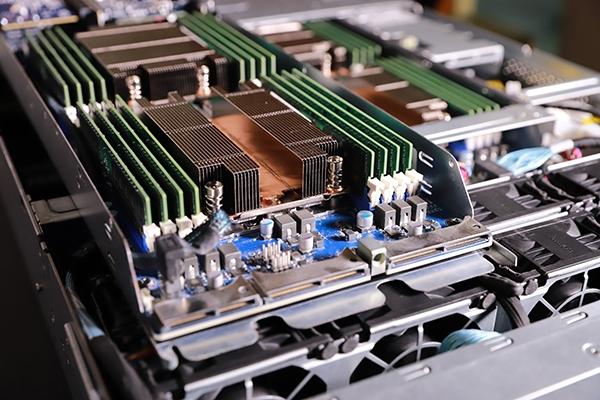 Easy & Powerful Management Tools
All GIGABYTE servers powered by AMD EPYC feature an AMI MegaRAC SP-X web-browser based platform for BMC server management, with a feature rich and easy to use graphical user interface. GIGABYTE's BMC management solution is also notable in providing HTML5-based iKVM remote management client as a standard feature, with no additional add-on license required to purchase. Also available as a free download is GSM (GIGABYTE Server Management), GIGABYTE's multiple server remote management software platform, compatible with either IPMI or Redfish connection interfaces. GSM includes both a desktop and mobile APP, as well as a plugin for VMware's vCenter.
Conclusion
GIGABYTE and AMD have had a great partnership, but it's now going to get even better. Working closely together, we are now able to bring the disruptive technology of the AMD EPYC 7002 Series Processors to the market, in a range of systems that combine excellent performance, configuration flexibility, and value.
Last updated: Apr 7, 2020 at 12:12 pm CDT