1 July 2019 - Buka Entertainment and Ravenscourt announce the new release date of the highly acclaimed top-down-action-brawler Redeemer: Enhanced Edition. The game will be available at the 19 of July for PlayStation 4, Microsoft Xbox, Nintendo Switch and PC both physically and digitally.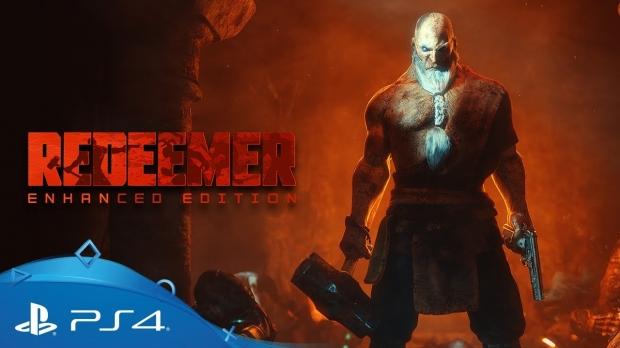 Artem Studenikin, PR-Manager at Buka Entertainment: "Players all around the world can't wait for Vasily to arrive in style on video game consoles. We're doing our very best so you could fully enjoy the Enhanced Edition. The final stage of quality assurance is underway at full speed to give you the true experience of the iconic brutal gameplay.Only a few days to go - meet Vasily on July 19th on consoles and PC!"
About Redeemer: Enhanced Edition:
Redeemer: Enhanced Edition is an intense modern take on the Brawler genre where you will punch, hack and blast your way through enemies using fists, hammers, fire arms and even the environment.
Play as Vasily, once elite operative working for the biggest Cybernetic Weapon Manufacturer in the world, he narrowly escape to a secluded monastery when the corporation turned on him, willing to make him one of its cyborg soldiers.
For 20 years he tried to find peace and harmony amongst fellow monks until the corporation eventually found his trace and is now closing-in on Vasily's location In so doing, they have given him one last shot at redemption.
Key-Features of the Enhanced-Edition:
Intense top-down action: Take out enemies using a wide selection of fire arms and melee weapons including combat knives, batons, fire axes, hammers and many more.
Unique kill system: Use three different types of kills to mercilessly eliminate enemies: sneak to stealth kills; use the environment to dispatch your opponents; utilize your combat prowess to beat down your opponents
Brutal hand-to-hand combat: Take out enemies using a wide selection of fire arms and melee weapons including combat knives, batons, fire axes, hammers and many more.
Disarm-or-dismember system: Use a unique combat move to either disarm enemies of their firearms, or dismember certain enemies at will and use their limbs as melee weapons.
Parry System: Defend yourself whilst taking down your enemies by utilizing a well-timed block. Learn the movements and attack patterns of different enemy types to perfect your parry.
Story driven single-player: Discover Vasily's haunted past and experience a narrative journey of betrayal and redemption.
Co-op mode: Play with your friend in co-op mode on one console: Friendship is tempered in battle.
Leveling: In-game leveling is based on a gradual battle skills improvement - character's proficiency with a skill is increased through practice of different attacks: kicks, punches, light and heavy melee weapons or guns such as handgun, shotgun, submachine gun, assault rifle or plasma gun.
Perks system: You have 50 perks to improve the killing efficiency of Vasily. Expand his abilities after every victory. Use new incredible fighting perks - electro punches, dragon breath kicks, explosive plasma and flame bullets etc.
About Koch Media
Koch Media is a leading producer and distributor of digital entertainment products (software, games and films). The company's own publishing activities, marketing and distribution extend throughout Europe and the USA. The Koch Media group has more than 20 years of experience in the digital media business, and has risen to become the number one distributor in Europe. It has also formed strategic alliances with numerous games and software publishers: Bethesda, Capcom, Kaspersky Labs, NC SOFT, Sega, Square Enix and Tecmo-Koei, etc. in various European countries. With Headquarter in Hafen, Austria Koch Media owns branches in Germany, England, France, Austria, Switzerland, Italy, Spain, the Nordic regions, Benelux, Australia, Czech Republic and the United States.
All product titles, publisher names, trademarks, artwork and associated imagery are trademarks, registered trademarks and/or copyright material of the respective owners. All rights reserved.