Barcelona, Spain - June 25, 2019 -Beautiful Glitch and Those Awesome Guys release the "The Startkicker Update" for Monster Prom and its DLC, Second Term.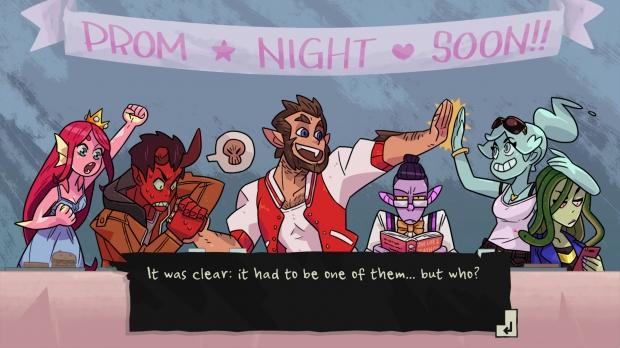 After seeing the Kickstarter campaign for Monster Prom 2: Holiday Season draw to an amazing conclusion, the Monster Prom team comes through with a surprise of their own by delivering the all new "Startkicker" content update. Here's what fans of monster smooching can expect:
A new secret ending
As a reward for completing 5 social achievements from the crowdfunding campaign, a new secret ending becomes open to discovery. As per usual, the developers won't spoil the surprise, but it's safe to assume that this route will appeal to Spooky High's more money-savvy students.
Summer outfits are back in season
The gang gets their summer swag back and this time the Second Term crew is joining in on the fun. Cal, Zoe, Dahlia and Dmitri all get fresh seasonal outfits for the fans' viewing pleasure.
Steam Summer Sale Deals
Those new to the world of Monster Prom will be happy to hear that both the base game and the DLC are subject to a considerable discount, as part of the Steam Summer Sale.
Monster Prom, the base game, has a 50% discount

Second Term, the DLC, has a 25% discount
Monster Prom Mod Tool
Another thing to get excited for is the new Monster Prom Mod Tool, which will start being available for testing to Kickstarter backers. It's still a long way coming, but here's a short clip to give you a sense of it all:
Find Monster Prom on Steam HERE: http://store.steampowered.com/app/743450
Find ''Second Term'' on Steam HERE: https://store.steampowered.com/app/958370/
Watch Monster Prom's Official Release Trailer' HERE:
Find Monster Prom on Facebook: www.Facebook.com/MonsterPromGame
Follow its development on Twitter: www.twitter.com/MonsterProm
Be part of the quickly growing community on the game's Discord server: www.discord.gg/yECYhUw
Chat about it on the official Subreddit: www.reddit.com/r/MonsterProm
Last updated: Apr 7, 2020 at 12:12 pm CDT