New products by Computer Upgrade King, SilverStone, Trend Micro, and Zhiyun to be revealed at GlobalPR Pre-Computex Press Event
May 20, 2019 7:56 AM CDT
Taipei, Taiwan, May 20th 2019 - GlobalPR Agency is pleased to announce to host a Pre-Computex press dinner on Monday, May 27th together with Computer Upgrade King from the United States, SilverStone and Trend Micro from Taiwan and Zhiyun from Shenzhen, China.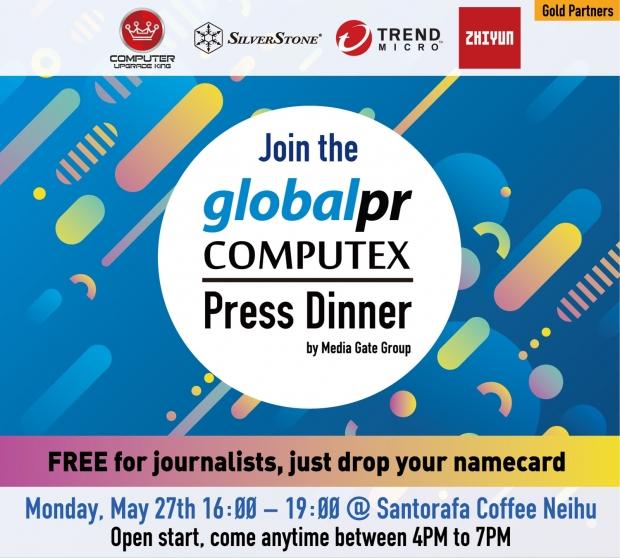 After hosting this dinner as private event for many years, this is the second time partners are joining this event by GlobalPR. " I'm very pleased that we have such great partners this year and that several of them decided to display unannounced products exclusively at our event." Says Jean-Pierre Skalamera, founder and director of GlobalPR agency.
The GlobalPR press dinner will be an event open to press only. Journalist are invited to join anytime on Monday May 27th from 4 PM to 7 PM at the Santarofa coffee in Neihu.
Find Out What the Partners Will Preview at the Event
"Computer Upgrade King is revealing for the first time in public their unique 0.7 cubic foot sized gaming PCs and their 1 cubic foot sized HPC Workstations that are launching in June."
"The diminutive Continuum Mini gaming PC with its unique dual door and infinity window front features, stretches the limits of current computing performance in an ITX form factor by supporting up to an 18-core fully clocked i9-9980XE CPU along with RTX 2080 TI graphics that customers can buy with open loop water cooling system as demoed starting for as low as $1499.99."
"Additionally, we are excited to display a new flavor of our just launched Stratos Micro that starts at only $349.99. With its superior airflow and cooling, the Stratos Micro HPC workstation redefines performance density with a fully clocked 250W 32-core Threadripper 2990WX CPU and Radeon VII graphics card that will be configurable up to a fully clocked 64-core 7nm Threadripper later this year."
Rob Robinson, Vice President, Computer Upgrade King, https://cukusa.com
"SilverStone will be showing off demo systems built using a modified Redline RL08 case and an unannounced prototype. The RL08, a Micro-ATX tower designed for airflow has a stunning two-color scheme exterior with an upside down internal layout. This unique product modified for Computex will carry an OLED display panel that enables users to monitor their system status. The unannounced prototype case is an ATX tower that is made of aluminum and tempered glass panels, it will feature beautiful accented lighting that make it truly stand out."
Tony Ou, Marketing Manager, SilverStone Technology Co., Ltd.https://silverstonetek.com
"Trend Micro Home Network Security provides protection against cyber-attacks for every Internet-connected device in your home - including security cam, game consoles, smart speakers, and any Wi-Fi appliances. Any device that is connected to the Internet has the potential to be hacked, which can lead to data and identity theft, financial loss, and privacy invasion. This product has protected more than 11,000 households across ANZ and Japan. This year our home network security solution is available in the USA to secure more friends and family having a safe digital life."
Jean Wu, Marketing Manager, Trend Micro, https://www.trendmicro.com/hns-home
"For Zhiyun, the leading gimbal manufacturer providing professional stabilization devices that redefine the way people record life, it is the first time to come to Taiwan and we are especially happy to use the GlobalPR press dinner as opportunity to show to the visiting tech media our soon to be released mobile phone gimbal. It will be a private preview of the new product before releasing it officially in a few weeks."
Anna Wu, Overseas Marketing Director, Zhiyun, https://zhiyun-tech.com
Members of the press interested in attending the event are invited to email to computexdinner@globalpr.agency for further information, pre-registrations and directions.
Related Tags