Beware...the Zombie Hordes Are Evolving in Horror Survival Rogue-lite Deadly Days
May 16, 2019 8:31 PM CDT
Today, Assemble Entertainment - best known for their work on Leisure Suit Larry: Wet Dreams Don't Dry - announced they have acquired the publishing rights to Pixelsplit's darkly comical rogue-lite zombie survival game, Deadly Days for PC. To celebrate this joyous occasion, Deadly Days will be included in Steam's Post-Apocalyptic Weekend Sale from May 16 to May 20, 2019, where the game will be available for 20% off its normal price.
Deadly Days is a unique strategic zombie survival game with light RPG elements. Manage and protect a group of survivors and help them find a cure for the ravenous disease that has taken over! Discover and use a wide variety of crazy items, special abilities, and lethal weapons to try and stem the zombie tide.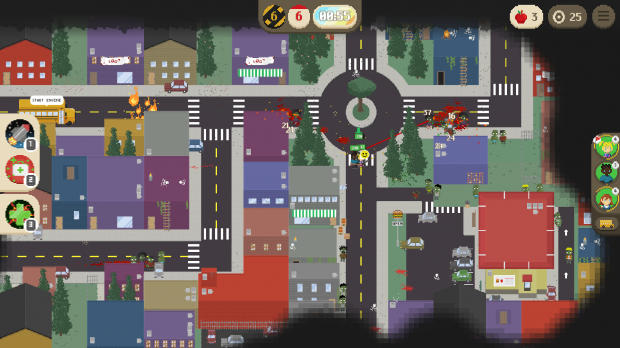 The apocalypse started simply enough, with the fast-food chain MKing launching a new burger product on the market. Addictive additives were secretly added to the meat in order to boost sales. You see where this is going, right? The plan worked out. However, the addictive drug meant that all logical brain areas shut down over time, except for the "Gimme fresh meat!" section. And it doesn't want just a light snack. No, this is full-on brain buffets that it craves! As if that wasn't bad enough, this disease also prevents people from dying a natural death! To survive this munching monster nightmare, a high level of ingenuity and some gratuitous violence is necessary.
Just in time for Steam's killer sale, where Deadly Days is currently available as part of Early Access, a major patch (v.0.50) will drop, bringing with it a host of new content and updates for zombie hunters old and new! The new features include everything from updated gameplay elements, such as food-gathering, to new missions, and various gameplay and UI improvements.
Watch the new Deadly Days update trailer here:
Key Features of Deadly Days Include:
More than 40 crazy items that make each game unique and are needed for your survival

Over 20 powerful special abilities that can dramatically change the outcome of a battle

Three different specializations where you can unlock new abilities, items, and weapons

Over 20 weapon types with randomly generated modifications

Procedurally generated cities and missions

More than 29 survivor skins with lots of unique skills to discover and unlock

More than 10 different types of zombies and three unique bosses that only want one thing: brains!

Over 30 different achievements to unlock

A lovingly designed 8-bit pixel art style
All of the information about the patch can be found here: https://uberstrategist.link/deadly-days-update.
A press kit including the trailer and new screenshots is available here: https://uberstrategist.link/deadly-days-pkit.
We'd appreciate it if you shared this news with your readers. If you'd like to speak to the team at Assemble or Pixelsplit -- perhaps to ask them why there's a banana suit in a zombie RPG -- we'd love to connect you. Any social media shoutouts including @AssembleTeam, @pixelsplitgames, and #DeadlyDays are also greatly appreciated!
Related Tags