Get Ready for a Smashing Good Time, 'Mace and Grace' is Now Available!
May 15, 2019 11:35 PM CDT
Moscow, Russia - May 8, 2019 - PlatformaVR are excited to announce that their medieval-themed VR game Mace and Grace has officially arrived on Steam. Mace and Grace delivers a smashing good time for players as they knock away enemy knights as far and hard as possible to protect their Grace and kingdom.
Blending comedy and brutality, players in Mace and Grace will take aim to, smack the daylights out of oncoming boxer clad enemy knights sent by the neighboring prince to steal your lady. Players will also have to outwit the attacking onslaught as bombs are lobbed to throw them off their smashing groove.
Weapons of choice are in no shortage in Mace and Grace as players can choose to wield clubs, maces, crossbows, bare fists, and can even choose to go full brutal by ripping off limbs as well as heating things up with a devastating fire breath. Distance is key to racking up points, as players will earn more points the further they're able to send those pesky enemy knights flying.
To wreak havoc on another level, players will need to smack away two knights with one well-landed blow to activate the game's special rage mode and let the carnage ensue. Players will be able to knock knights away in satisfyingly bloody fashion across multiple levels, game modes and compete for the top spot on the global leaderboard.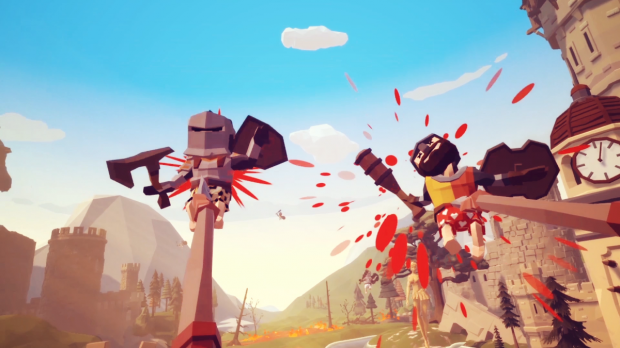 Mace and Grace is available on Steam beginning at 1 pm EST, for HTC Vive, Oculus Rift, and Windows Mixed Reality VR for $9.99. To celebrate the game's release, PlatformaVR is giving players 20% off throughout the game's launch week. For more information on Mace and Grace visit the official site here.
A list of features includes:
Three game modes: Rage, Survival, Gore

Fight off enemy knights with a variety of weapons at launch including maces, spears, axes, clubs, crossbows, bare hands, and fire breath

Send knights flying with the hardest hits possible to earn more points

Smash two knights in one blow to activate rage mode

Dodge oncoming bombs with evasive maneuvering

Take advantage of slo-mo bonuses

Challenge friends and compete for bragging rights on the global leaderboard
Last updated: Sep 25, 2019 at 05:39 pm CDT
Related Tags