Aurora Studios has released statistics from the first ever esports event for Ring of Elysium. The Thailand International Invitational concluded on April 7th and was comprised of 15 international teams competing at Garena World in Thailand.
China's Team MDY claimed victory at the invitational walking away with the 1M Baht prize pool. Teams competed on the Europa Island map and participated in 8 matches throughout the tournament completing four matches in FPP and four matches in TPP. Points were awarded throughout the matches for ranking, eliminations, and boarding or in the case of no teams boarding the helicopter points were awarded for survival time.
Aside from overall victory Aurora Studios has announced the tournament statistics naming the top players in most eliminations, highest damage dealt, and survival time. RaptorDaRaptor of Europe's Stellar Four was awarded with most eliminations, defeating 18 players. Stellar Four's Yaotzin achieved the highest amount of damage dealt throughout the tournament dishing out 2,436 damage. Awarded top points in a second category was Stellar Four's RaptorDaRaptor who also took the top spot in survival time, reaching a total time of 12,149 seconds.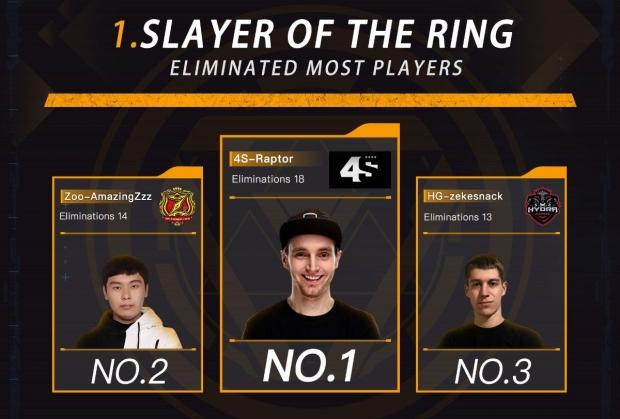 With a successful jump into the foray of esports, Ring of Elysium developers Aurora Studios are confident that the battle royale will continue to foster a budding esports scene welcoming new players into the professional fold. Players wanting to start their climb to the top of Europa can download Ring of Elysium for free on Steam.
To find out more about Ring of Elysium visit the official site here.