This weekend brings bonus gameplay rewards plus a relaunched preview and feedback programme.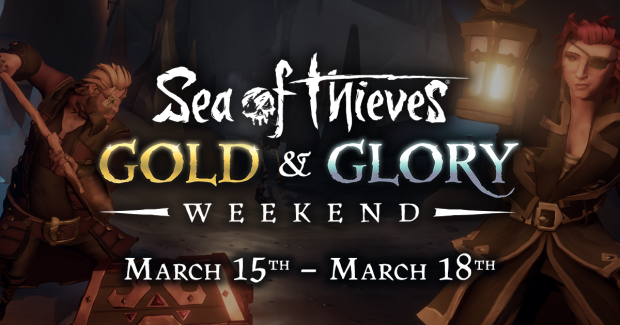 The weekend of March 15th-18th should be on the calendar of all Sea of Thieves fans. Not only is it a special time-limited Gold and Glory Weekend, it follows hot on the heels of the grand relaunch of Sea of Thieves' Insider Programme!
Gold and Glory Weekend is exactly what it sounds like - from 11am on Friday 15th to 11am on Monday 18th (GMT), all players can enjoy boosted gold and reputation rewards. Gold is the main currency of Sea of Thieves, used to purchase in-game cosmetics, while reputation allows you to rise through the ranks of the Trading Companies, ever closer to the noble status of Pirate Legend.
To take advantage of Gold and Glory Weekend, all you need to do is play as normal. Each time you cash in a chest, skull, piece of cargo or other prize, you'll get a handsomely boosted amount of gold and reputation. This could be a great way for new players to get off the starting blocks, or for veterans to make that final push to Pirate Legend ahead of Sea of Thieves' first anniversary later this month!
Meanwhile, invested fans can take their pirate calling to another level with the relaunched Insider Programme, thrown open this week to new members. Insiders gain access to preview builds of the game, enabling them to get their hands-on new features early and provide essential feedback, similarly to the invite-only Pioneer Programme run in the past. This process is vital to Sea of Thieves and allows the team to fine-tune updates based on constructive information.
The Insider Programme relaunch adds new features, aimed at rewarding players for devoting their time and attention. Insiders can receive in-game gold, Doubloons and even unique cosmetics in exchange for their ongoing assistance (note that while Insider rewards carry over to the main game, general progress in the Insider builds is separate from your progress in the main game). Insiders also gain access to a dedicated Insider Forum and area of the website with patch notes and other inside info.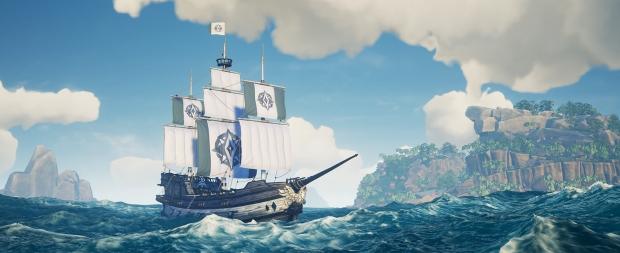 Those wishing to join the Insider Programme should be aware that all content is strictly under NDA and not to be shared outside of the Insider Forums. But if your blood is stirred by the call of this new pirate undertaking, head to www.seaofthieves.com/insider and follow the short sign-up process to get started!
For an overview of everything added to Sea of Thieves in a packed year since launch, check out the What's New page: https://www.seaofthieves.com/whats-new
Links:
Sea of Thieves website: https://www.seaofthieves.com

Sea of Thieves Forums: https://www.seaofthieves.com/forum

Sea of Thieves on Discord: https://discord.gg/seaofthieves

Sea of Thieves on Twitter: https://twitter.com/SeaOfThieves

Sea of Thieves on Facebook: https://www.Facebook.com/SeaOfThievesGame

Sea of Thieves on YouTube: https://www.YouTube.com/SeaofThieves

Sea of Thieves on Twitch: https://twitch.tv/SeaofThieves

Sea of Thieves on Mixer: https://mixer.com/SeaofThieves
About Sea of Thieves:
A pirate-themed shared world adventure game, Sea of Thieves is available now on Xbox One and Windows 10 PC, with enhanced features on Xbox One X. It offers an unforgettable pirate experience, packed to the seams with sailing and exploring, fighting and plundering, riddle solving and treasure hunting - everything you need to live the pirate life you've always dreamed about. You have complete freedom to approach the world, and other players, however you choose.
Released in March 2018, Sea of Thieves is a Play Anywhere title and offers cross play between Xbox One and Windows 10 PC players. Four free content updates have already been released, with more planned for 2019.
About Rare:
UK-based developer Rare has been making golden memories and redefining gaming genres since 1985, and exclusively on Microsoft platforms since joining Microsoft Studios in 2002. Since then, the studio's pursuit of innovation and quality has led to the creation of Xbox Avatars, the double BAFTA-winning Kinect Sports titles and new IP including Kameo and Viva Piñata to add to a stable that already holds Banjo-Kazooie, Conker and Perfect Dark. Following an opportunity to celebrate its heritage with the Rare Replay anniversary collection in 2015, the studio is now forging ahead with brand new shared world adventures in Sea of Thieves, released in March 2018.