BRISBANE, QUEENSLAND - March 8, 2019 - Assault Android Cactus+, the action-packed arcade-style twin-stick shooter by Witch Beam, launches into uncharted space on the Nintendo Switch today.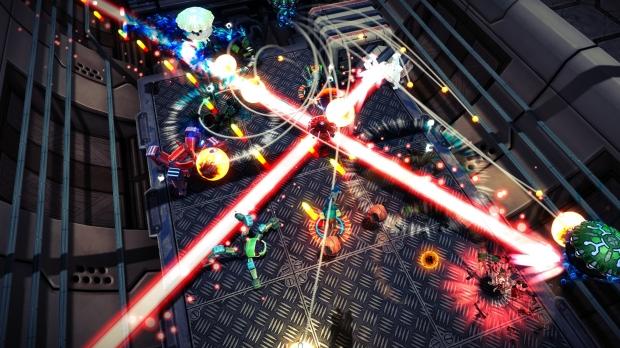 Assault Android Cactus+ debuts on Nintendo Switch with all-new features: Campaign+, new character costumes and aim assist options. Campaign+ reconstructs the original campaign with new enemy waves, more dynamic elements, and amped-up boss fights, all at 60 frames-per-second. Unlock a new costume for each of the nine androids while testing their unique load-outs to see what's most effective across 25 levels.
While Campaign+ and its new leader-boards are enticing additions for those familiar with the game, anyone can enjoy Cactus+'s frantic firefights with the addition of Aim Assist options. To let players get the most out of the local co-op experience, the game can be played with dual Joy-Con, Pro Controller and even single Joy-Con in any combination.
Recruit up to three friends and start shooting!
Lead Junior Constable Cactus and her Android friends as they respond to a distress call and finds a derelict space freighter under attack by its own robot workers. Keep the androids' batteries charged by embracing aggressive play and blasting hordes in frantic, 60 frames-per-second firefights.
Keep the entertainment going with Daily Drive, which offers one shot a day at setting a worldwide high score in a newly-generated level. Players craving further challenge will find it in Boss Rush and Infinity Drive. Earn credits to enable amusing EX options including first-person mode, visual filters, and the newly re-balanced MEGA Weapons. A new Movie Gallery joins unlockables like Developer Commentary, Jukebox, and Sound Test, making revisiting favorite moments easier than ever.
"Assault Android Cactus+ has something for everyone," says Tim Dawson, director, Witch Beam. "We hope the fans that have supported us over the years will enjoy Campaign+, and we look forward to first-timers feeling confident with aim assist."
Assault Android Cactus+ is available on Nintendo Switch for $19.99. The game supports English, French, Italian, German, Spanish and Japanese languages.
For more information about Assault Android Cactus, please visit the official website or follow the game on Twitter and Facebook.
Assets:
Screenshot and Trailer Downloads
About Witch Beam:
Witch Beam is a Brisbane-based Australian indie development studio comprised of
industry veterans whose resumes cite BAFTA and GDC awards for work on titles includingL.A. Noire, Alien Isolation, Need for Speed, and Hand of Fate.
Witch Beam consists of former Midway, Electronic Arts, and Sega developers. Together, they've won the Best International Game award at BitSummit 2015 and Best Action Game at Intel Level Up 2013 for Assault Android Cactus.
Witch Beam strives to develop substantial experiences on core gaming platforms with polished gameplay that focuses on mastering select elements.
To learn more about Witch Beam, please visit their official website.
Last updated: Sep 25, 2019 at 05:39 pm CDT