Nijmegen, The Netherlands, March 7, 2019 - Codalyn, the independent studio behind Stable Orbit, has today revealed its forthcoming title, Privacy.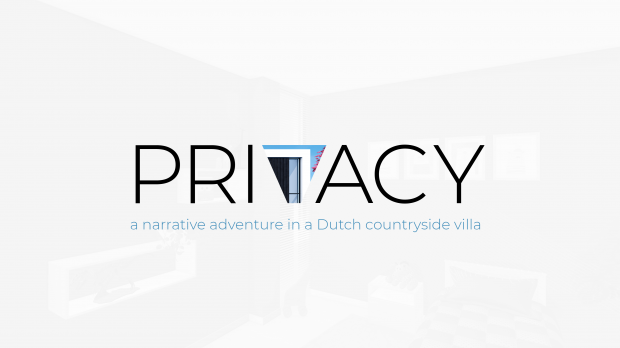 In the summer of 2079, you are sent to the home of Robert-Paul den Heer, the billionaire CEO of DENHEER, Inc. who has recently died in a car crash. You task is ostensibly simple: secure Mr. Den Heer's undisclosed research for the company. When you enter the house, however, you soon discover that Robert-Paul was a very complicated man.
Privacy is a narrative adventure in a Dutch countryside villa and the next game from solo developer Jim Offerman (Deus Ex: Human Revolution, Tomb Raider). "I've been a huge fan of the adventure genre since Myst and the 7th Guest", said Offerman, "and I am very excited to now deliver my personal take on the genre."
On your quest to uncover Mr. Den Heer's secrets, you are assisted by Hubert, a series 5 house A.I. Hubert is voiced with an unsettling calm by Anthony Ingruber (Batman: The Telltale Series, LEGO DC Super-Villains). "With Hubert, you will never be sure if his emotions are genuine", said Ingruber of the role.
Privacy is coming to PC & Mac in 2020.
Features:
A Rich Story

Explore a richly detailed modernist villa, fully realized in stunning 4K graphics. Interact with Hubert and pull open every door and drawer to uncover the story of a driven entrepreneur-inventor and the events that shaped him and his family.

A Vision of the Future

Experience a vision of the future where artificial intelligence and augmented reality have replaced most electronic devices we use today. Smartphones, tablets, laptops and televisions are all rendered obsolete in the future portrayed in Privacy.

A Narrative Experience

Privacy is a narrative-focused game. Unravel the secrets of the house and story at your own pace.
Contact:
Jim Offerman: jim@codalyn.com
Website: https://codalyn.com/privacy
Trailer: https://www.YouTube.com/watch?v=_SHkIsvBgjI
Press Kit: https://codalyn.com/press/privacy
Codalyn, based in Nijmegen, The Netherlands is the game development studio run by Jim Offerman. Jim was the lead programmer on Deus Ex: Human Revolution (PC), Tomb Raider (PC & PS3) and Thief (PC). Codalyn has previously released Stable Orbit, published by Green Man Gaming Publishing.
Anthony Ingruber is a Dutch/Australian actor and voice actor. He is best known for his role as John Doe/Joker in Batman: The Telltale Series and Batman: The Enemy Within as well as playing the younger version of Harrison Ford's character William in The Age of Adaline.