Users were enthusiastic to show up at AMD booth to try the SMACH Z.
The public enjoyed some games, along with SO W10 navigation.
Finally, people experienced by themselves the feeling and ergonomics of SMACH Z.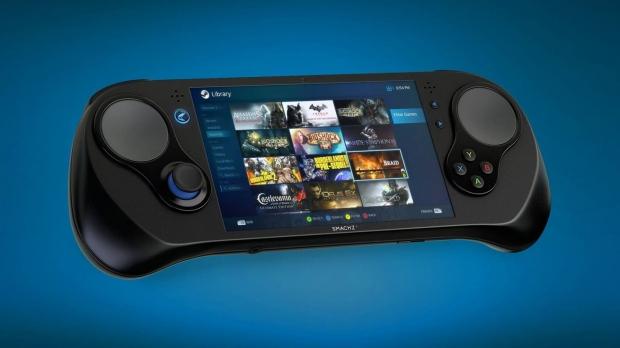 Palma de Mallorca, Spain, March 5, 2019 - The SMACH Z team brought some units to this yearÃ,Ã,´s edition of the Embedded World and the general public was enthusiastic to show up at their booth to try the SMACH Z.
The Embedded World is a yearly embedded systems convention carried out in Nuremberg, Germany. This massively known convention showcases the top innovators and experts from the industry.
SMACH Z integrates and runs with a powerful AMD Ryzen Embedded V1605B SoC with AMD Radeon Vega 8 Graphics. AMD and SMACH Z reams have been working for the past years side by side to develop this amazing console.
This years Embedded World edition was the time to give the public the opportunity to try the console and immerse them in a first-hand experience with the system and the AMD processor.
"We wanted to amaze the public by giving them the opportunity to play SMACH Z by themselves, so that they could experience and feel what it is all about. It is important for us to share with gamers the passion and excitement that drives our company every single day." - Said Daniel Fernandez CEO and Founder of SMACH Z.
The Embedded World 2019 successfully hosted over 32.000 visitors and 1.000 exhibitors from more than 78 countries. Lots of them had the chance to play indie and AAA games on SMACH Z at the AMD booth.
People's feedback was positive, and they were surprised by how all those features could fit in a comfortable handheld console. The public also had the opportunity to take a closer look at the AMD Ryzen Embedded V1605B SoC with AMD Radeon Vega 8 Graphics processor and PCBs to see how it powers the SMACH Z.
More about Smach Z:
Unlike traditional consoles, it allows you to access all PC games (Steam, Origin, GOG, etc.). It can run any PC game, indie as well as AAA.
Thanks to its AMD Ryzen Embedded V1605B SoC with AMD Radeon Vega 8 Graphics the SMACH Z has power and graphic quality never before achieved by a portable device.
The battery life is between 2 and 7 hours of playtime and recharges in only 45 minutes.
The SMACH Z is a PC in form of a console, so it allows you to install Windows or Linux, work in Excel, it has a front camera to make video calls, you can also surf the Internet, play music or watch movies. It can also be connected to a keyboard, a screen or mouse and be used just like a desktop PC. It has a 6-inch high-definition touchscreen, so you could watch movies comfortably or connect to your Netflix account or any streaming platform.
Last updated: Sep 25, 2019 at 05:39 pm CDT