AUSTIN, TX - October 24, 2018 - QC Games and En Masse Entertainment have partnered together to bring Breach - the upcoming co-op action-RPG - to all En Masse players via the En Masse store and game launcher. Through this partnership, En Masse will be conducting a technical alpha for their players later this year, providing an early hands-on experience of the fast-paced and addicting dungeon brawler.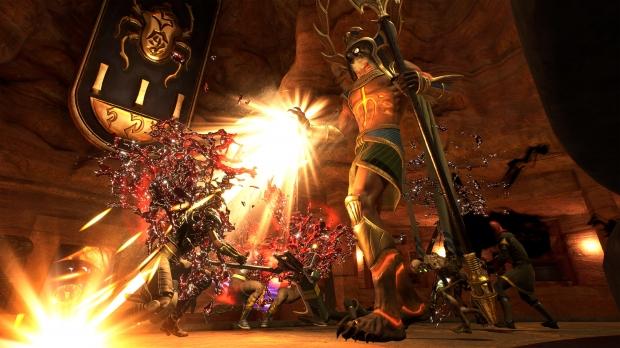 Gamers interested in participating in the Breach Technical Alpha, please register at Playbreach.com.
"With Breach, once players get to experience the game, it's almost instantaneous how much fun they have," states Dallas Dickinson, CEO and President of QC Games. "We're always looking to get more gamers hands-on time with Breach and partnering with En Masse enables us to invite their action MMORPG fanbase to have an early taste of what makes the game so special."
"Once we got a chance to play Breach, we knew this game was going to be something special," states Sam Kim, CEO of En Masse Entertainment. "We're thrilled to be able to offer another highly anticipated action-RPG to the En Masse game library."
With the upcoming TwitchCon 2018 convention taking place this weekend, attendees will be among the first to experience the latest version of this fast-paced, unconventional online action RPG with unique multiplayer features - you can even face off against the QC Games dev team members to beat them at their own game!
The Breach booth is located at booth #1447 in the San Jose Convention Center during TwitchCon 2018 from October 26 - 28.
Content creators attending TwitchCon 2018 are encouraged to contact Lobo Rivera (lobo@reverbinc.com) to arrange an appointment for more information on upcoming Breach announcements, including details on the Breach Partner Program.
Press members attending TwitchCon 2018 can book an appointment for hands-on demonstrations Breach with the QC Games dev team by contacting Anthony Chau (anthony@reverbinc.com).
70,000 years ago, humanity was on the verge of extinction until a group of Immortals created the Veil, splitting Earth into two realities: one reality that features the Earth we know, and an alternate Earth where mythological creatures thrive. Now the Veil has been shattered and the two worlds are collapsing into each other with catastrophic consequences.
Players in Breach take control of heroes who have been imbued with "The Spark" to master magical abilities. Travel across the world to iconic locations that have been breached by this mystical parallel Earth and clash against legendary mythological enemies as well as an unexplained malevolent spirit, the Veil Demon.
Breach will enter paid Steam Early Access later this year with the Free-To-Play full launch in 2019. Can't wait to prep your mission loadouts and squad combinations? Look for announcements on upcoming Technical Alpha and Early Access dates by following the game on Twitter, 'Like' us on Facebook, and visit the official game page at PlayBreach.com.
Last updated: Sep 25, 2019 at 05:39 pm CDT