The leading global motherboard manufacturer, ASRock, is pleased to announce is pleased to announce the X10 IoT router, a unique next generation smart IoT hub that is designed as an integral part of a smart home environment and essential part a secure domicile. As an IoT router, the ASrock X10 is well equipped to control various "Smart Home" devices, including light systems like smart lighting devices, smart locks, smart water meters, television, air-conditioning units and much more without requiring any additional hubs thanks to its ZigBee controller and advances mesh networking technology.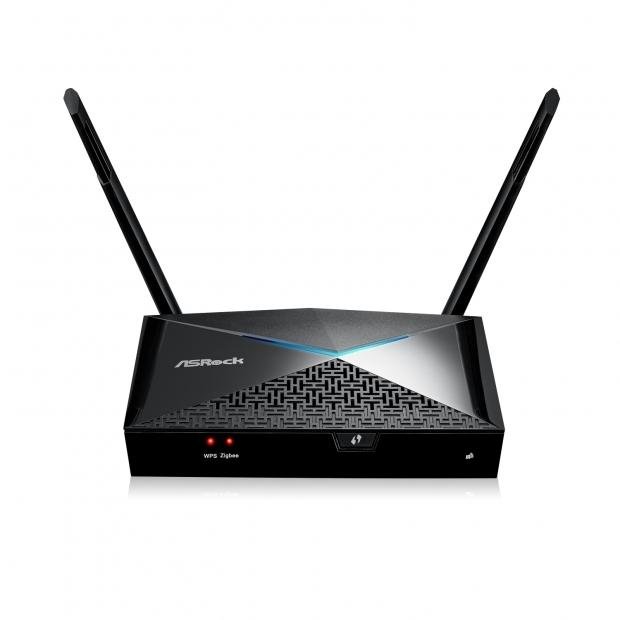 ASRock Introduces the X10 IoT Router for Smart Homes
Control smart devices from the comfort of your smartphone
"We believe a qualified digital life is built on a well-connected and user-friendly environment, that's why ASRock created the X10, an all-round Wi-Fi router that integrates IR and ZigBee functions." says Jason Chou, vice president of the ASRock R&D division.
As an access point, the ASRock X10 is very capable, supporting AC1300, equipped with high-gain antennas and supporting MU-MIMO and beamforming, thus providing excellent coverage and high bandwidth for any user connected. As a home-router, it supports parental control, works as a secure VPN server and enables you to access your files at home anywhere around the world thanks to M2M (machine to machine) technology.
Product available at Newegg and Amazon at the MSRP of US$139.99
Unique features
The world first four-in-one LAN, Wi-Fi, IR and ZigBee IoT router

Smart control of multiple X10 units through ASRock Router app

2x high gain external antenna's for extended coverage

Transnational remote control, access your home with AES128 encryption

High-security VPN server with support for IPSec/L2TP and OpenVPN

Self-healing for optimal performance

AC1300 Wi-Fi with MU-MIMO and beamforming
Easy installation and control through ASRock router app
The ASRock X10 IoT router can be controlled through the ASRock Router app. The app, which is available on Google Play Store or the App Store for iPhone and iPad, both gives complete control of the ASRock X10 IoT router, as well as any smart devices in your home. It smoothly discovers new devices in your home, allows you to add IR devices through a cloud-based database, or learn directly from the device, and control every smart device through your smartphone.
Convenient setup of smart home devices
You can choose to control each device manually or add scenes, which set a group of devices up for your desired activity, like turning off all lights and closing the curtains when you go to sleep, turn on your TV, home entertainment system, and set mood lighting when you want to watch a movie, or open the blinds, lights, and power on your coffee maker to wake up in the best way possible. As an added bonus you can control multiple ASRock X10 or G10 routers through the ASRock Router app.
Smart home automation hub
The ASRock X10 is a true smart home automation hub. Thanks to the use of ZigBee, the ASRock X10 is able to control a multitude of Smart Home devices in a mesh network. This includes smart LED bulbs like Philips Hue bulbs and GE smart bulbs, Securifi smart plug, leakage and door sensors, and Samsung SmartThings Outlet. The ASRock app for the X10 also offers geofencing functionality, which allows location-based triggers commands to, for instance, automatically enable security sensors once you're away from home, or turn on lights when you arrive home at night.
Your smartphone as a universal remote control
The integrated IR transmitter uses a cloud-database to give your smartphone control of any IR controlled devices in your home, or the X10 can learn your devices IR codes by learning from your remote control. This, for instance, allows you to use your iOS or Android device as a remote control while not being physically present in the same room as the device you want to control, like heating, air-conditioning, television and DVD player.
VPN and transnational control
The ASRock X10 is a fully functioning VPN server, which allows you to securely connect to your home network through L2TP, IPSec, and OpenVPN and the AES128 encryption standard. With transnational control, you can access your files and devices at home, including USB devices connected to the X10, from anywhere in the world thanks to its advanced M2M (machine to machine) technology. This allows you to stream your music and movies or watch TV shows you recorded at home. It also gives you complete control of your home when you're away, for instance, you can easily access your IP security cameras in your home to check if everyone is okay and, for instance, remotely adjust your air-conditioning for your pet on a hot summers day.
Last updated: Sep 1, 2017 at 12:58 am CDT