DisplayLink, the leading provider of USB graphics technology, today announced a new concept for ultra-low latency wireless VR with a live demonstration at CES 2017.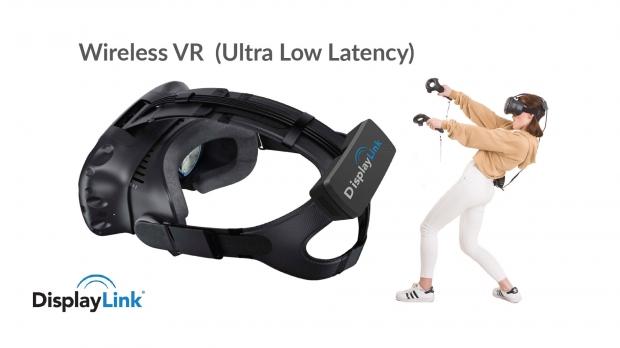 DisplayLink was the first company to push the boundaries of wireless 60GHz to dual 4K displays based on their unique compression algorithms, and is now showcasing the award-winning technology applied to the booming Virtual Reality market on a Mixed Reality stage at CES Las Vegas 2017 with an ultra-low latency Wireless VR demonstration that is available for attendees to experience.
"VR is changing the way we interact with computers and the way we visualise information, yet a totally immersive experience for either gaming or business isn't possible while worrying about cables. Rapid movements such as turning or crouching could cause damage to equipment and literally tie the user up in knots," said John Cummins, SVP Sales and Marketing.
"VR is opening a whole new chapter in visual immersion, but limits on cable connection, latency and bandwidth bring large challenges which DisplayLink is uniquely positioned to solve. DisplayLink's industry-proven compression technology and ultra-low latency enable a fully immersive experience and we're excited to be showcasing the first concept at CES."
To extend the experience and immersive nature of the wireless concept demo at CES, DisplayLink has built a custom green screen VR stage for mixed reality filming and interaction. Invited guests and users can experience wireless VR and total freedom of movement on the VR stage at their booth in South Hall 4.
For more information on DisplayLink products visit http://www.displaylink.com.
About DisplayLink - Plug and Display Solutions.
DisplayLink (www.displaylink.com) develops hardware and software solutions to enable easy connectivity between monitors and computing devices over standard interfaces such as USB, Ethernet, and wireless networks. DisplayLink's technology increases productivity and ease-of-use in the multi-display workspace and is deployed to millions of users through globally branded PC products including universal docking stations, monitors, projectors, zero client systems and display adapters. For more information and product details, visit the DisplayLink Shop and follow DisplayLink on Facebook, LinkedIn, YouTube and Twitter.
Last updated: Sep 1, 2017 at 12:58 am CDT