BIOSTAR is pleased to announce the introduction of its latest gaming peripheral and also the latest addition to the BIOSTAR RACING series family of performance products: the BIOSTAR RACING AM3 gaming mouse.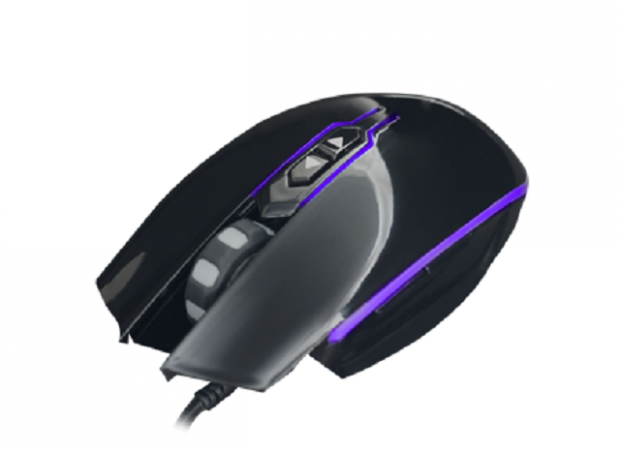 With gamers looking for performance and features nowadays, gaming mice have become an expensive tool to fully enjoy games and the price to have one is sometimes a barrier in getting what you need to game. BIOSTAR changes that and addresses the needs of gamers at a reasonable price without sacrificing quality nor feature set. Built around a high-precision PMW 3320 sensor, the RACING AM3 gaming mouse comes with enhanced precision up to 5000DPI resolution to satisfy your gaming needs. The BIOSTAR RACING AM3 will have an MSRP of $15.99.
A step-up from your traditional gaming mouse, the BIOSTAR RACING AM3 gaming mouse is designed to aid gamers who are looking for a precision, high-performance mouse that can meet their needs.
With BIOSTAR's experience, they have come up with the BIOSTAR RACING AM3 to offer their flagship mouse for the gaming masses, taking feedback from gamers as well as years of experience when designing the RACING AM3 gaming mouse. The result is an incredibly precise, high-performing and high-quality gaming mouse with the perfect balance of price and features.
The BIOSTAR RACING AM3 gaming mouse features all the competitive essentials that gamers who crave for above-average performance want high-endurance HUANO switches rated for 10-million clicks. Designed for claw-grip, the RACING AM3 is also ambidextrous and improves comfort and high-speed movements even on long gaming sessions.
Ultra-durable, non-tangle cabling is used with anti-pull clip to improve feel and static prevention. An almost-mirror, high-gloss UV surface brings excellent style and is easy to clean, with reduced dust and dirt build up properties. Large teflon feet increases glide and make the AM3 move smoothly across any mousing surface, soft or hard.
A special RACING AM3 software allows users to fully customize their BIOSTAR RACING AM3 gaming mouse to suit their needs. Define macros, programmable buttons, setup pre-defined DPI settings, and change polling rate all-in-one intuitive software.
For more information on the BIOSTAR RACING AM3 gaming mouse go to:
Visit the new BIOSTAR website at: http://www.biostar.com.tw
AM3 Gaming Mouse Specifications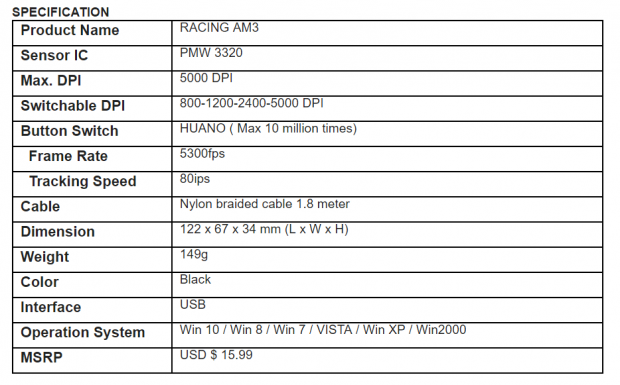 Last updated: Sep 1, 2017 at 12:58 am CDT