Samsung Australia has today announced the Samsung Portable SSD T3, a premium, palm-sized, external solid state drive (SSD) that offers multi-terabyte (TB) storage capacity. Equipped with Samsung's proprietary Vertical NAND (V-NAND) and SSD TurboWrite technology, the T3 drive provides advanced performance, enabling consumers, content creators, business and IT professionals, to quickly and easily store and transfer large multimedia content across a variety of devices.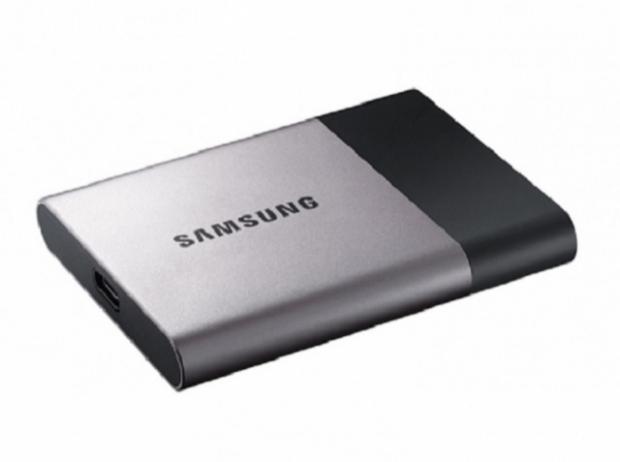 "Samsung is committed to innovation in portable storage and have delivered an incredibly well designed SSD solution that is market leading in terms of form factor, capacity and transfer speeds," said Todd Lynton, Director - Business Solutions, Samsung Australia. "Many Australians travel throughout the country for work and lead mobile lifestyles. The T3 delivers outstanding performance, storage capacity and durability without compromising on style or security due to an on-board encryption functionality."
Representing a major step forward for external, mobile storage, the T3 SSD range provides a dependable and versatile solution for a wide range of applications. The new range will include a 2TB T3 SSD, along with a wide range of other capacity options including 250 gigabyte (GB), 500GB, and 1TB.
External Storage with a New Level of Performance
With the rise of rich 4K content in the Australian home, consumers are increasingly relying on external storage solutions, while seeking faster data transfer speeds and large capacity on multiple devices. The T3 solves this problem by enabling fast file transfers based on sequential read and write speeds of up to 450MB/s with a USB 3.1 interface, which is up to four times faster than some alternative external HDD solutions*.
Mobility and Durability Suited for an On-the-Go Lifestyle
Designed specifically for today's mobile lifestyle, the Portable SSD T3 is compact, lightweight and durable. The drive is smaller than an average business card and weighs a mere 51 grams approximately, allowing users to easily carry large amounts of data with them anywhere.
Unlike an external HDD, SSDs do not have moving parts, which makes them better protected from damage or data loss due to accidental bumps or drops. Featuring a new shock-resistant metal case and internal frame, the T3 can withstand up to 1500G of force and will survive a drop of up to two metres. The drive's integrated Thermal Guard prevents overheating in extreme temperatures, and the T3 comes with a three- year limited warranty.
Increased Compatibility and Data Security
Featuring an adopted USB 3.1 Type C connection, the T3 is compatible with a wide range of USB supported devices, including the latest Android smartphones and tablets, and computers with Windows or Mac OS. Consumers can send data from the T3 to a PC and vice versa, access content on the T3 through compatible mobile devices, and view the drive's multimedia content on large-screen devices such as TVs. The T3 uses exFAT, a widely adopted file system, as its default file recognition format to create a seamless experience. The T3 also works with a brand-new Samsung Portable SSD Android mobile app which supports password changes and remaining capacity checks.
The drive has a simple set-up process, with users only needing to set one password. The drive is equipped with AES 256-bit hardware encryption to ensure a high level of security and protection across Windows, Mac and Android OS based devices. Even if the drive should fall into the wrong hands, with a password set up, the data stored on it would be virtually inaccessible.
Pricing and Availability
The Portable SSD T3 is compatible with a range of Samsung smartphones and tablets including the newly released Galaxy TabPro S, Galaxy S7 and Galaxy S7 edge, Galaxy S6 edge+, Galaxy Note 5, Galaxy S6 edge and Galaxy S6.
T3 is available now from JB Hi Fi, Harvey Norman, Bing Lee and Officeworks, with an RRP of $1249 (2TB), $649 (1TB), $329 (500GB) and $199 (250GB).
Key Specifications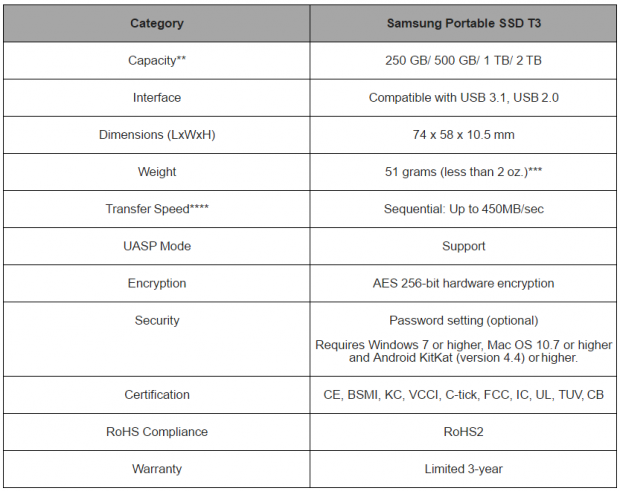 Last updated: Apr 7, 2020 at 12:11 pm CDT