Altec Lansing is cranking up the performance of its line of portable, all-weather Bluetooth speakers with the upcoming release of the Super LifeJacket - the first product in the series featuring omni-directional sound and beefed-up bass as well as a category-first IP68 rating validating its ability to survive indefinite under-water submersion without damage. The line is also being expanded with mini and maxi versions of the award-winning BoomJacket, plus upgrades of current BoomJacket and LifeJacket models.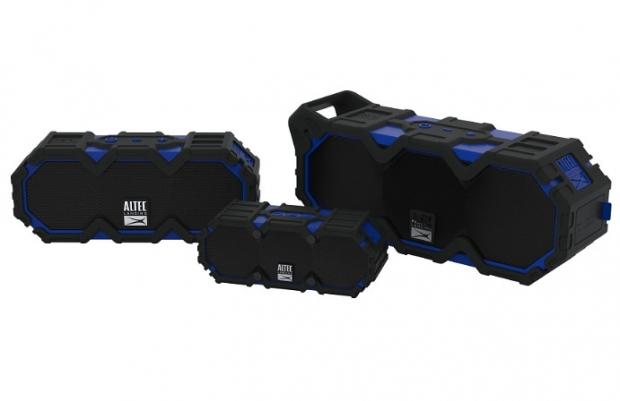 All new speakers in the series will again feature waterproof, dustproof, sandproof, shockproof, snowproof, floatable and submersible construction, creating an "everything-proof" music player that keeps on jamming even if it gets buried on the beach, left out in the rain, or dropped into any body of water from a fish tank to a river. Six of the 2016 models will also have the ability to be wirelessly paired for simultaneous play of up to seven speakers (the better to rock the party!). They will ship in Q2 2016 with MSRPs from $39.99 to $299.99.
Super LifeJacket: Super Performance
Delivering the biggest and richest audio of Altec Lansing's portable all-weather Bluetooth speaker line, the $299.99 (MSRP) Super LifeJacket will be the first in the family with both front and back speakers for a true fill-the-room or fill-the-space sonic experience. It will also be the first in the series with a three-way speaker enclosure, featuring dual 2" neodymium woofers, dual 1.2" tweeters, dual 2.5" subwoofers and dual 3" passive radiators. The upshot: bigger bass output, brighter mids and highs, and more horsepower per dollar than any competitive speaker.
Another first will be an IP68 rating signifying that the Super LifeJacket is capable of withstanding complete, continuous submersion in water as well as intrusion from dust particles. No all-weather speaker from any other vendor offers this degree of assurance that the music will keep on playing even in the event of a rowdy pool party or an extra-dirty campground.
Other new features debuting in the Super LifeJacket include:
A 100-foot Bluetooth signal range, triple its predecessor, making it one of the first speakers to support the new Bluetooth standard

A 50-hour battery life, three times longer than the current LifeJacket product, with a rechargeable lithium ion battery

Wireless voice pairing for simultaneous play of up to seven speakers (two when the product is released, seven with an over-the-air upgrade scheduled in fall 2016)

Multi-point pairing for up to three mobile devices, providing access to different users' playlists with a tap to switch between music libraries

Two built-in power banks, enabling two phones or other devices to be charged from the speaker simultaneously when no wall outlet is available

Dual universal mounting brackets plus a built-in carrying handle
The Super LifeJacket will weigh 4.7 pounds and have a slightly larger form factor than the LifeJacket to accommodate the additional speaker components, but will still be easily portable at 4.65"H x 12.25"W x 3.66"D. It will be compatible with any Bluetooth-enabled Apple, AndroidTM or BlackBerry phone or tablet or laptop; usable in wired mode using the built-in 3.5mm aux port; and include voice-controlled speakerphone functionality with spoken caller ID that speaks the caller's name (if in the contact list) instead of a phone number for easy identification.
2 All-New BoomJackets & 5 Model Upgrades
Altec Lansing will also be releasing smaller and larger editions of the BoomJacket, the high-style, elliptically shaped, all-weather portable Bluetooth speaker added to the series in 2015, as well as technology updates to existing BoomJacket and LifeJacket models. The new products will include:
Mini BoomJacket (MSRP $99.99), a petite new speaker roughly half the size of the BoomJacket with omni-directional sound, a 16-hour battery life and a 60-foot wireless range.

Sonic BoomJacket (MSRP $299.99), a new super-sized BoomJacket with an omni-directional design, a series-best 60-hour battery life and a 100-foot wireless range.

BoomJacket II (MSRP $199.99), an upgrade to the original BoomJacket adding omni-directional audio power, crisper high frequencies, a 50-hour battery life (up from 40) and a 100-foot wireless range (up from 50).

Mini LifeJacket III (MSRP $99.99), an update delivering a 16-hour battery life (up from 10) and a 60-foot wireless range (up from 33).

LifeJacket III (MSRP $149.99), a new generation of the original 'Jacket' product featuring a 30-hour battery life (up from 16) and a 100-foot wireless range (up from 33).

Jacket H2O II (MSRP $69.99), an upgrade providing a 10-hour battery life (up from 8) with a 50-foot wireless range (up from 33).

Mini H2O II (MSRP $39.99) an update offering the same 6-hour battery life as before with a 50-foot wireless range (up from 33).
All seven products will also have an IP67 dust and moisture protection rating for everything-proof indoor/outdoor use and speakerphone functionality. The five most expensive will each have a built-in power bank, and all products except the Mini H20 II will have the same over-the-air upgrade capability as the Super LifeJacket for futureproofing and the ability to pair with up to seven speakers.
Last updated: Apr 7, 2020 at 12:10 pm CDT