NVIDIA SLI support to encourage Intel X58 loyalty?
Being faithful will have its benefits, it seems.
Published Fri, Aug 8 2008 11:14 AM CDT
|
Updated Tue, Nov 3 2020 12:38 PM CST
A desire to play the field may be a costly exercise, on the part of motherboard manufacturers, pondering the implementation of SLI support into their, upcoming, Intel X58 powered solutions according to this
report
, from Fudzilla.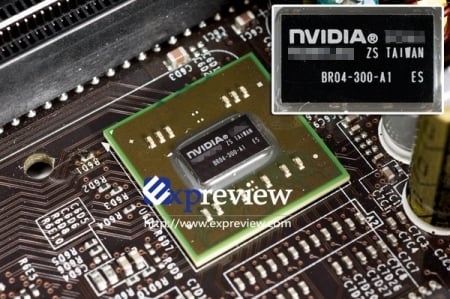 It is claimed that NVIDIA, is going all out to ensnare motherboard manufacturers into producing only X58 SKUs which include SLI support, courtesy of the company's nForce 200 chipset.
Santa Clara, CA based NVIDIA, will allegedly offer a $10 discount per nForce 200 chipset, from the normal price point of $30, to those who prove their loyalty to its cause and refrain from offering any X58 SKU, sans SLI support.
The article suggests that manufacturers adopting SLI support into their X58 solutions, could prove to be a money-spinner for NVIDIA.
This, is due to the intricacies of its nForce 200 solution which features just a single x16 PCIe connection with the system chipset and, would require manufacturers to divide it between each (both) PCIe slot(s). To offer uncompromised performance, two nForce 200 chipsets could be utilised, thereby offering the full complement of bandwidth, per slot.
This second solution is, akin to that found on Intel's Skulltrail, albeit using nForce 100 chipsets instead.
Realistically though, we imagine that only extremely high-end solutions may feature the second implementation because, as it is, the inclusion of even a single nForce 200 chipset will put immense pressure on margins.
Factoring in the expenses of incorporating single, or even dual nForce 200 chipsets into their X58 solutions, may also break the deal for some manufacturers.
It is rumoured that motherboard manufacturers aren't so enthusiastic about incorporating NVIDIA SLI support into their X58 SKUs, yet suggestions are abound that ASUS, at least, is working on this front.
NVIDIA may not be laughing all the way to the bank then, it seems.
Related Tags