AMD steps up enthusiast game against Intel, NVIDIA
R700, in CrossFireX, scores in 3DMark Vantage.
Published Mon, Jun 30 2008 4:29 AM CDT
|
Updated Tue, Nov 3 2020 12:38 PM CST
TG Daily,
features
an account of AMD's fight to make leaps and bounds in the enthusiast sector of the market.
Sunnyvale, CA based AMD's CPU offerings, have been lagging behind Intel's Core 2 processor family which, literally, has been obliterating offerings from AMD in sheer performance stakes. With Intel in their target and by launching, what they deem as highly overclockable, yet affordable CPUs, AMD aims to match, if not exceed, their successes against NVIDIA.
On the GPU battlefield, AMD's turnaround in late 2007, with the HD 3800 series, marked the turning of the tide in price to performance ratios and this, has been heightened with the recent launch of the RV770 GPU, which has taken birth as the HD 4800 series.
Amongst information pertaining to AMD's upcoming Phenom 9950 CPU, together with 790GX and SB700/750 chipset solutions, a screenshot depicts the highly anticipated R700 graphics solution, in CrossFireX configuration, scoring X12515 in 3DMark Vantage.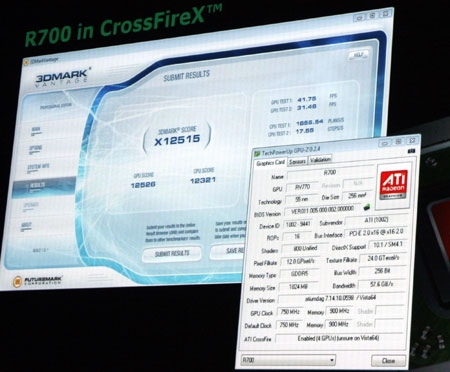 The R700, featuring two RV770 GPUs and, in the CrossFireX configuration used by AMD's Austin team, utilised four GPUs in total, to achieve the 3DMark Vantage score in question. The RV770 GPUs were clocked at 778 MHz, whilst the onboard GDDR5 memory modules, were running at a sprightly 980 MHz (QDR).
By way of comparison, it is notable that three NVIDIA GTX280 solutions are required to achieve a comparable score.
With AMD making waves, it is expected that not only is the R700 heading for launch within a seven week time-frame, yet also that AMD's next CPU and chipset iterations, should see the light of day too.
Perhaps the playing field in enthusiast land is about to get that little bit more even?