CoolIT intros extreme cooling for Intel Skulltrail
Say hello to Boreas MTEC ST and PURE ST.

Published Thu, Jun 12 2008 8:31 AM CDT
|
Updated Tue, Nov 3 2020 12:38 PM CST
TWEAKTOWN EXCLUSIVE
CoolIT just gave us the heads up that later today they will be announcing the high-end Boreas MTEC ST cooler and case combo and more affordable PURE ST standalone cooler - you get a first look at it here right now.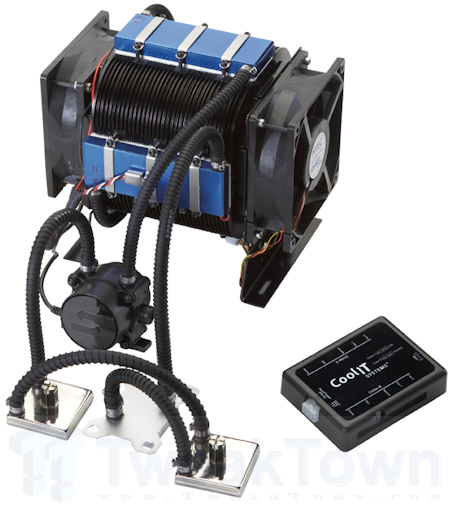 Both of these cooling products are designed specifically for the Intel Skulltrail enthusiast gaming platform that was released in February this year. Skulltrail D5400XS motherboards are based on Intel's 5400 "Seaburg" workstation chipset and support two 45nm based Intel Core 2 Extreme QX9775 processors operating at 3.2GHz with 1600MHz QDR bus speed. It is also the only Intel chipset based motherboard that officially supports SLI and Quad SLI at that.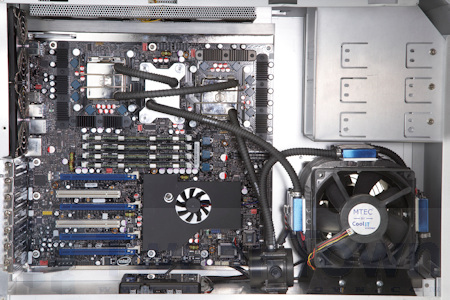 CoolIT clearly realise that it's a total beast of a system as well and designed the Boreas MTEC ST and PURE ST for users looking for not only quiet computing but also of course for those looking to push well past the factory CPU clock speed.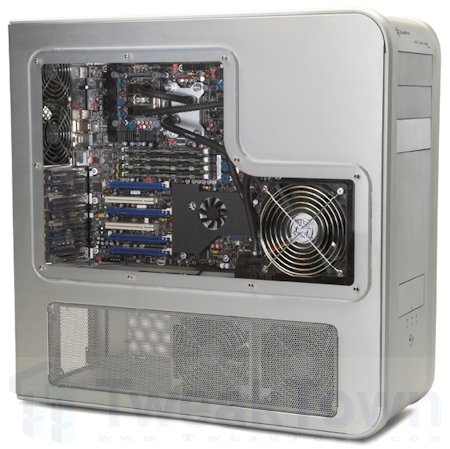 The first is a cooler and case (Silverstone TJ07 chassis) combo specifically chosen for this platform. Boreas MTEC Chassis ST will set you back $899 as a combo. The PURE ST will set you back $269 for the cooler, which doesn't pack quite as much punch as the Boreas MTEC ST.
"CoolIT's new ST lineup will enable PC Enthusiasts to fully maximize the performance of Intel's new Skull Trail platform technology" said Geoff Lyon, CEO of CoolIT Systems. " We've worked closelywith Intel to develop this customized Skull Trail liquid cooling solution and the end result will excite PC Enthusiasts and Gamers world-wide."

"We've been extremely impressed with CoolIT's ability to enable gains in overclocking performance, even while still reducing system noise and providing a low-maintenance, simple installation." remarks Erik Cubbage, Product Marketing Engineer for Intel corporation. "The new ST coolers combined with our enthusiast D5400XS motherboard yield mind-boggling computing performance that is exciting the industry."

CoolIT Systems will be working alongside Intel to develop liquid cooling solutions for future Intel Desktop Boards, as well as other applications which will launch in the near future.