Cooling your Summer down with USB fan
USB desktop fan out next month.

Published Fri, May 30 2008 12:53 AM CDT
|
Updated Tue, Nov 3 2020 12:38 PM CST
Arctic Cooling has today unveiled a product which all Northern Hemisphere based folks probably shouldn't do without now that the summer heat is starting to well and truly kick in.
ARCTIC Breeze allows you to
ride with the wind
(oops, that is MSI's line)
play with the wind
. This simple yet genius device takes one of Arctic Cooling's 92mm cooling fans and essentially puts it on a stick with some USB cabling to power it. You can switch the fan speed between 1200 and 2000 RPM and it is supposedly quiet at both speeds.
It will be on sale from next month and set you back around $16 USD - please send one to me, Taipei humidity is shocking.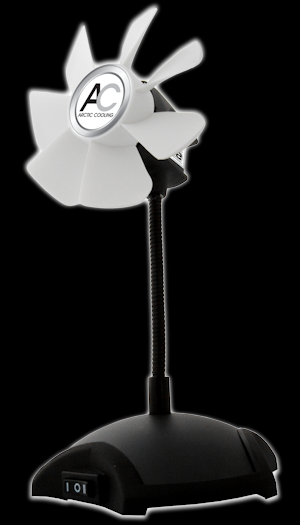 (Pfffikon/Switzerland, 30 May 2008) This summer is going to be hot, hot and hot! Of course you need to keep your precious CPU and VGA coolers nice and cool during the summer, but how about buying yourself a cool gadget as well? Don't you want to breathe some fresh and cool air while you are gaming or working hard?

Stay cool this summer with ARCTIC COOLING's latest ARCTIC Breeze, a cool, quiet and portable USB desktop fan offering refreshing breeze in hot, sunny weather!