DOS_deck is a new way to play classic games released for the MS-DOS operating system on the Steam Deck or PC browser with a controller. The UI follows the look and feel of the Steam Deck interface. So far, there are several classic game demos (which used to be called Shareware) and even full games to check out - including the original Doom, Wolfenstein 3D, Syndicate, Warcraft: Orcs & Humans, Epic Pinball, and more.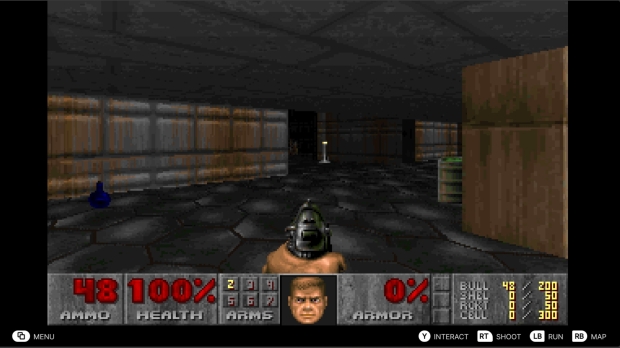 Playing classic DOS games on a modern PC or via a browser extension is not new. Still, the simple and elegant UI and integrated controller support make DOS-deck an awesome experience, even on a PC with Chrome or Edge. All controls are already mapped, and you can select games or return to the main menu with a controller.
For PC purists, default keyboard and mouse controls are also here. Getting DOS_deck working on a Windows PC doesn't require anything other than plugging in a controller, but getting it to run on a Steam Deck via Chrome or Edge requires a few steps to ensure the controller works properly.
This is because, by default, browsers can't detect the Steam Deck controller, so the About page for DOS-deck outlines the steps you need to take to get it working on Valve's handheld.
Press the Steam button, select Power > Switch to Desktop.

Open the Discover Software Center.

Select Applications > Internet > Web Browsers.

Find Chrome or Edge and select Install.

Once it's installed, return to the Desktop. Select Application Launcher.

Select Internet, right-click on Chrome or Edge and select Add to Steam.

Check the box next to Chrome or Edge. Select Add Selected Programs.

Back on the Desktop, open Application Launcher > System > Konsole (terminal window).

Chrome or Edge needs access to the Steam Deck controller.

Enter this command in Konsole and press Enter:

For Chrome: flatpak override --user --filesystem=/run/udev:ro com.Google.Chrome

For Edge: flatpak override --user --filesystem=/run/udev:ro com.microsoft.Edge

Open Steam

Navigate to Chrome or Edge, right-click and select Properties.

Change the name to DOS_deck

Append this to launch options (after @@u @@):

--window-size=1200,800 --kiosk "https://dosdeck.com"

Restart your Steam Deck back into Game Mode

Go to DOS_deck in your library and select Manage > Controller Layout

Select BROWSE CONFIGS > Gamepad with Mouse Trackpad > APPLY CONFIGURATION > Done

Enjoy!
DOS-deck's developer, Martin Kool, notes that games will be added to the site over time - so if you've got a favorite in mind, be sure to head to reddit.com/r/dosdeck and let Martin know. The good news is that classics like Lemmings, Descent, Wacky Wheels, Duke Nukem 3D, Tyrian, Death Rally, and more are on the way.