Grand Theft Auto V has reached yet another sales milestone, Take-Two Interactive today announced in its Q2 FY24 earnings results.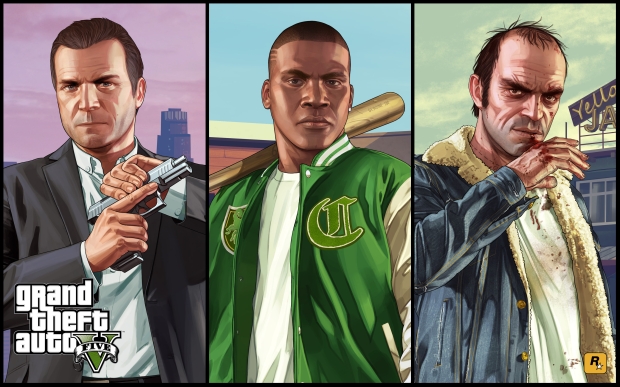 There's a few singular games that have the staying power to not only release across multiple console generations, but to generate tens of millions of sales along the way. Grand Theft Auto V is one of those games--Take Two confirms that GTA V has now sold-in (or shipped) 190 million copies across the globe.
This also pushes total GTA franchise sales to 410 million, and shows that GTA V has sold 5 million copies per quarter for 4 consecutive quarters in a row.
Thanks to a variety of re-releases, including the most-recent PS5 and Xbox Series X/S port that leverages the power of these new systems, GTA V has enjoyed a strong retail presence throughout the last 10 years. GTA Online's incredibly popular digital playing ground has also secured long-term revenues, helping the franchise generate over $8.4 billion since GTA V's release in 2013.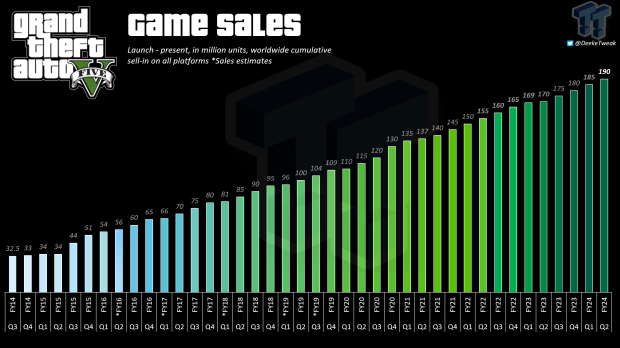 GTA V's success has continually surprised Take-Two Interactive management. Every quarter it seems that executives are shocked with the game's long tail, not only with shipments and product sell-through, but with the consistent recurring monetization driven by GTA Online purchases. Now Rockstar Games has also introduced a new subscription plan that could help elongate engagement--and earnings--within Grand Theft Auto V and the franchise as a whole.
In TTWO's Q2 results, the company mentioned GTA V in the following ways:
$1.44 billion Net Bookings, with outperformance of Grand Theft Auto V and Grand Theft Auto Online, and Red Dead Redemption 2

Our performance reflects better-than-expected results from Grand Theft Auto V and Grand Theft Auto Online, and Red Dead Redemption 2