More on the Gigabyte P45 DQ6 from HQ
Hardware RAID and more.

Published Wed, May 7 2008 9:12 PM CDT
|
Updated Tue, Nov 3 2020 12:38 PM CST
We just showed you the possibly overkill four network LAN ports in our previous post and now we will show you the remainder of the flagship DQ6 motherboard.
It's important to remember that it carries all the new features which Gigabyte has been working on the for the past 2 or 3 years such as all solid capacitors and DES but it steps it up a notice with a feature that Gigabyte is calling "Ultra Secure". Extremely fine tuning every part of the system one by one, it looks like on the surface.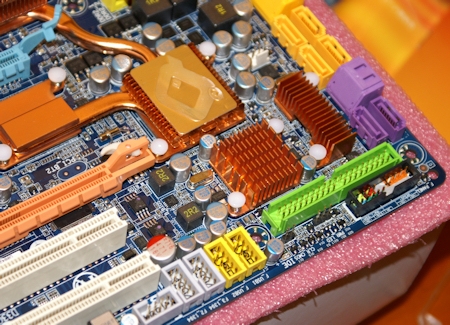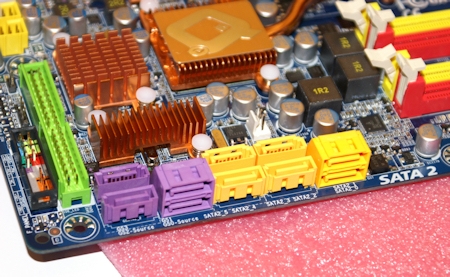 Ultra Secure implements true Hardware RAID powered by Jmicron and switch by Silicon Image (RAID 0 and 1 - there are two chips to the DQ6 motherboard so you can run RAID 0 and RAID 1 at the same time). There is 128k memory onboard the chip and we're told it's very easy to setup in the BIOS. Keep in mind that the motherboard itself has software RAID through the ICH10R Southbridge, so if you really wanted to, you could run three separate RAID arrays on a single motherboard without the need of spending extra money on a separate RAID controller.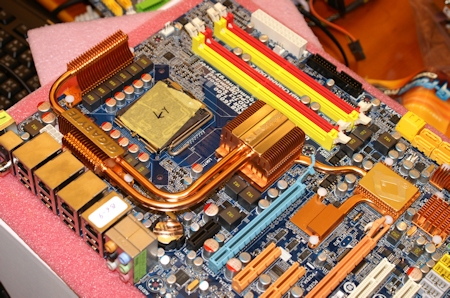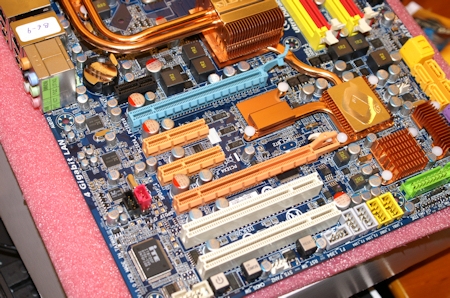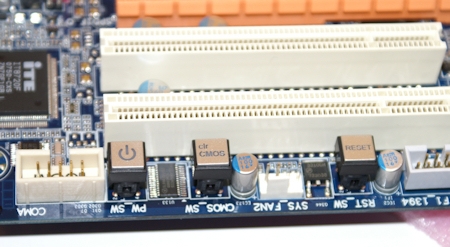 In addition the hardware RAID we get a look at the rest of the motherboard including its heat pipe cooling setup along with expansion slots and DIY on/off switches and so forth.