AMD's new Ryzen Threadripper PRO 7995WX processor is an absolute champion of silicon, offering up to a mighty impressive 96 cores and 192 threads of Zen 4-powered CPU power... so much power that it has more FP32 compute performance than the Xbox Series X and PlayStation 5 consoles.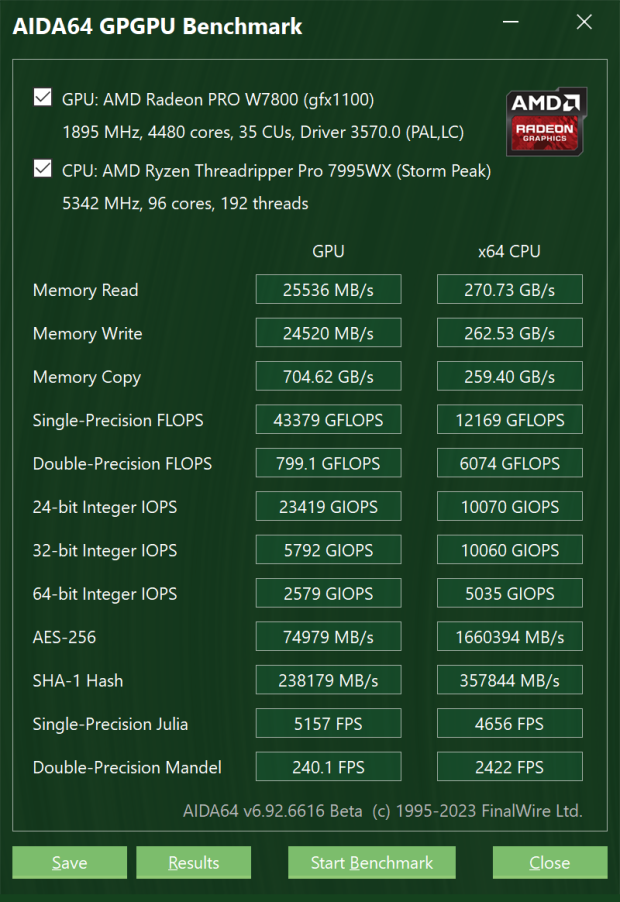 That new flagship Ryzen Theadripper PRO 7995WX processor offers up to 12.16 TFLOPs of FP32 compute performance, whereas if we compare this to the Xbox Series X with its 12.1 TFLOPs and the PlayStation 5 with its 10.2 TFLOPs, we can see that the new TR PRO 7995WX is quite the beast. It's almost at the performance of the GeForce RTX 3060, too, which is the most popular GPU on the Steam Hardware Survey.
AMD recently launched its Ryzen Threadripper 7000 and Ryzen Threadripper PRO 7000 series CPUs, with a few big differences between the two: the Threadripper 7000 (non-PRO) is for HEDT users and enthusiasts, offering up to 64 cores and 128 threads. Meanwhile, the Ryzen Threadripper PRO 7000 scales up higher, with a 96-core, 192-thread Ryzen Threadripper PRO 7995WX processor.
Compute Performance in TFLOPs (FP32 compute performance):
GeForce RTX 3060: 12.7 TFLOPs

Ryzen Threadripper PRO 7995WX CPU: 12.16 TFLOPs

Xbox Series X: 12.1 TFLOPs

PlayStation 5: 10.2 TFLOPs

ASUS ROG Ally (Ryzen Z1 Extreme): 8.6 TFLOPs

PlayStation 4 Pro: 8.4 TFLOPs

Xbox One X: 4.5 TFLOPs

Xbox Series S: 4.0 TFLOPs

PlayStation 4: 1.85 TFLOPs

Xbox One: 1.31 TFLOPs

Nintendo Switch: 0.4 TFLOPs
The AIDA64 GPGPU benchmark sees the Ryzen Threadripper PRO 7995WX processor spitting out 12.16 TFLOPs of FP32 compute performance, which compared to the Intel Core i9-13900K -- which has now been replaced by the Core i9-14900K -- spits out just 2.5 TFLOPs, so the TR PRO 7995WX is nearly 5x faster than the 13900K.