Team AU Overclocking and Intel put the new 14th Gen Core i9 14900K through the ringer at SXSW Sydney - showcasing the latest CPU generation's capabilities in pushing in-game performance to new heights. In a world where GPU grunt drives a lot of performance, it's a great reminder that the CPU still plays a significant role in getting the most frames. As Dino Strkljevic from Intel said, "You can never have enough frames."
Yes, a lot of liquid nitrogen was involved, with Roger Chandler, Intel vice president and general manager, Enthusiast PC and Workstation​, Client Computing Group, helping to keep a steady flow of LN2.
With IEM Sydney 2023 ((Intel Extreme Masters) taking place alongside SXSW Sydney, the game of choice was Counter-Strike 2. With the new Intel Core i9 14900K featuring a 6 GHz boost frequency out of the box, Team AU and Intel pushed that to 7.5 to 8 GHz. And with that, the performance shot up to a mind-blowing 1310 FPS.
A stable four-digit frame rate over 300 FPS faster than the stock 6 GHz boost clock performance on the 14900K. There aren't any gaming monitors that can keep up with this frame rate, but it's good to know that there are definite use cases for new displays that feature a 540 Hz refresh rate - like the ROG Swift Pro PG248QP. The use cases are strictly for playing competitive titles like Counter-Strike 2, where performance is king.
Of course, it took a lot of liquid nitrogen and a team of expert overclockers to reach this number - but it's incredible to witness. What made the feat even more impressive was that they got people in the crowd to come up and play Counter-Strike 2 (and give them prizes for getting kills) on what was dubbed the fastest CS2 gaming PC.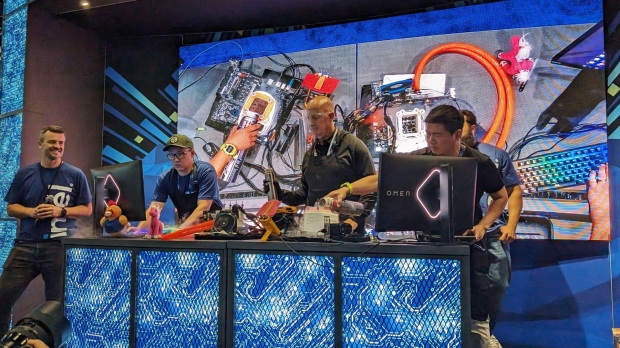 One of the key takeaways from Intel's overclocking showcase (apart from always being fun to see expert overclockers push hardware to its limits) was a reminder that a CPU can be as important to a gaming rig as a high-end GPU. "CPU limited" is a term we often see in PC gaming benchmarks, and that's because games like Counter-Strike 2 utilize the CPU to handle many tasks that aren't related to rendering a frame or generating lighting effects.
IEM Sydney, which wraps up on Sunday, is the first global LAN tournament featuring Counter-Strike 2 - which has replaced CS:GO as the goto game for all CS action.