And pricing looks to be on par with the previous gen! After months of rumors and leaked benchmarks, Intel has officially announced and unveiled the new Intel Core 14th Generation desktop processor lineup, including the Intel Core i5-14600K, Intel Core i7-14700K, and flagship Intel Core i9-14900K. With up to 24 cores and 32 threads on the high-end, the early word about increased frequencies is accurate, with the new Intel Core 14th Gen hitting up to 6 GHz out of the box.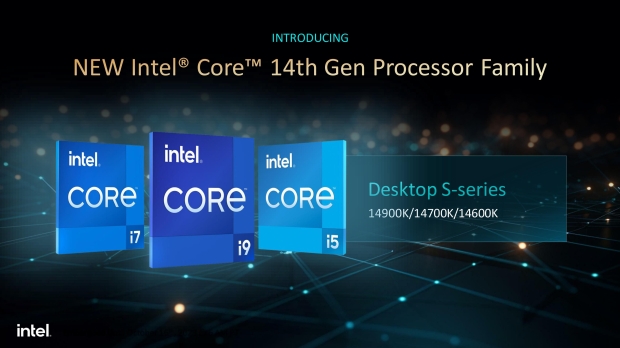 In the midrange, the Intel Core i7-14700K features 20 cores and 28 threads thanks to the four additional E-cores compared to the 13700K. And for those looking at overclocking, intel's Extreme Tuning Utility (XTU) app now features a new AI Assist for one-click overclocking for select Intel Core 14th Generation desktop processors. Plus, DDR5 can go beyond 8,000 MT/s.
With the announcement, Intel is positioning the new line-up as an enthusiast CPU class for gamers and content creators. "The role of the CPU in gaming and creating has never been more important," writes Intel. "Intel Core 14th Gen desktop processors - powered by Intel's advanced performance hybrid architecture - give PC enthusiasts the compute performance they need without compromising user workflow."
Regarding gaming, Intel's benchmarks show that the Intel Core i9-14900K outperforms the AMD Ryzen 9 7950X3D in most games - as high as 20% in some cases. Intel offers a second chart with data showing the new flagship comparable to AMD's impressive X3D range, topping it in a few titles. Though with an MSRP of USD 599 (same as the previous gen, the AMD Ryzen 7 7800X3D still looks attractive.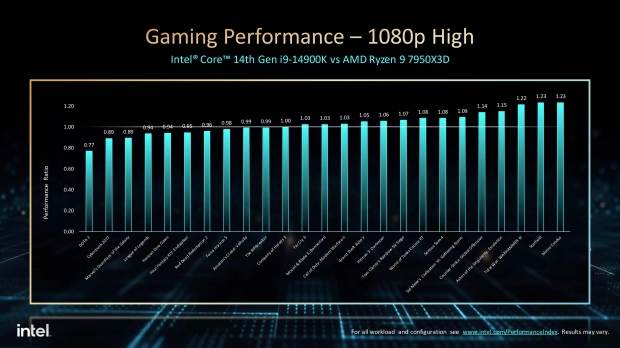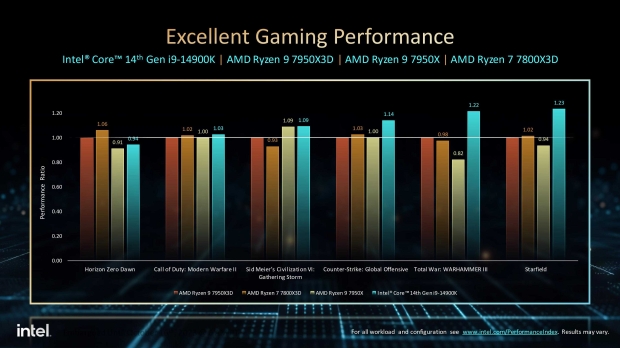 Of course, power usage, thermal performance, stability, and in-depth testing will tell us the whole story - on that front, stay tuned for our Intel Core 14th Generation desktop processor lineup review.
In the meantime, here's Intel's quick summary of the new CPU generation.
The Ultimate Gaming Platform: Intel Core 14th Gen processors power an immersive gaming experience with up to 23% gaming performance uplift compared to leading competitor processors, while new gaming-focused features like Intel Application Optimization (APO) ensure better-than-ever application threading alongside existing Intel® Thread Director application thread scheduling.
Continued Overclocking Leadership: Intel Core 14th Gen unlocked processors continue to offer an unparalleled overclocking experience for everyone - from experts to beginners2. Latest-generation unlocked desktop processors now include the new Intel® XTU AI Assist feature for AI guided overclocking, as well as support for DDR5 XMP speeds well beyond 8,000 megatransfers/second (MT/S).
Best-in-Class Connectivity: Intel's latest desktop processor family comes equipped with integrated support for Wi-Fi 6/6E and Bluetooth 5.3, as well as discrete support for new Wi-Fi 7 and Bluetooth 5.4 wireless technologies. Additionally, Intel Core 14th Gen desktop processors include support for Thunderbolt 4 as well as upcoming Thunderbolt 5 wired connectivity - supporting up to 80 Gbps of bi-directional bandwidth.
Compatibility with 600/700-series Chipsets: Intel Core 14th Gen desktop processors remain compatible with both Intel 600 and 700 series chipsets, giving enthusiasts the ability to easily upgrade their existing systems and enjoy latest-generation gaming and creator performance.