A-DATA has themed Eee PC flash products
Get your Eee PC kit here.

Published Tue, Apr 29 2008 3:56 AM CDT
|
Updated Tue, Nov 3 2020 12:38 PM CST
Attempting to cash in on the success of the ASUS Eee PC, A-DATA has announced a range of new themed flash memory devices for the highly popular Taiwanese made low-cost notebook PC.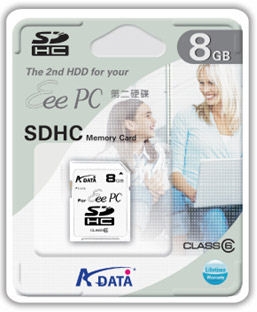 First up is the A-DATA class 6 SDHC memory card which offers a hefty 8GB of additional storage to the Eee. It's promoted as a permanent second hard drive for the Eee with its branded color coding scheme - however, it begs question - what good it is that if you never see it installed inside the card reader? Tsk tsk tsk...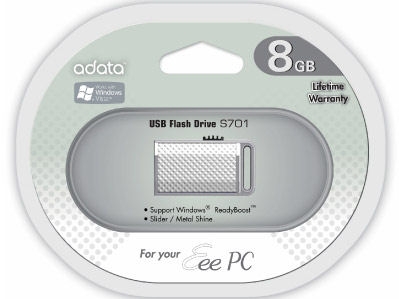 Next up is the S701 USB sliding pen drive also offering a hefty 8GB of storage. It not only color and style matches the Eee PC but it also includes support for Windows ReadyBoost which is a Vista only feature - again the questions come begging, isn't the Eee really only properly capable of running XP? Sorry for being picky A-DATA but somebody has to be.
You can read more details on both products over at the A-DATA press release which you will find
right here
.