Buyer be aware, they say. A few weeks ago, I treated myself and bought Samsung's impressive Odyssey OLED G8 34-inch curved gaming monitor. It turns out I should have researched a little more before hitting the buy button.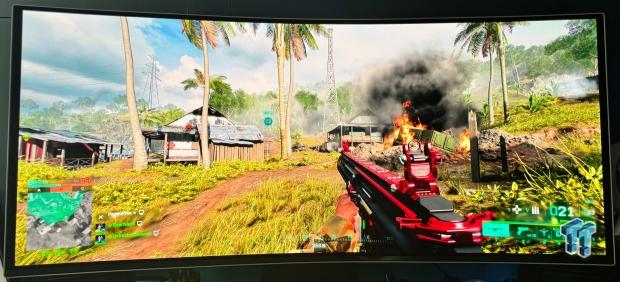 Let's start with the positives, shall we? Samsung's Odyssey OLED G8 is a stunner. The panel is absolutely glorious. The colors, especially the blacks it produces through its OLED display, are amazing. Even just doing my usual work tasks in Windows is a joy. The image pops, and everything visually offers a great appearance and experience. Then comes gaming - my choice currently, Battlefield 2042 - and well, damn! Powered by the buttery smooth Inno3D GeForce RTX 4090 GPU, 34 inches of curved gaming goodness at 3440 x 1440, 175Hz refresh rate, and a blisteringly fast 0.03ms response time, the experience is golden - well, sort of.
The above paragraph probably makes you want to go right out and buy the Odyssey OLED G8. I wouldn't blame you - recommendations like the above made me do the same. But hold on. While the panel itself is one of the best you can buy currently, despite various firmware updates, some serious issues have yet to be fixed by Samsung since its release earlier this year.
It only takes a quick Google search to bring up various threads on Reddit of dozens of users experiencing the same issues with their Odyssey OLED G8 monitors. Some have even had their panels replaced, only to find the same problems. Others have called and contacted Samsung support only to find the Korean giant trying to put the blame back on them and their computers. Users around the world are experiencing many issues with their Odyssey OLED G8 monitors, but the two that annoy me the most I'm going to detail here today.
At 175Hz and using DisplayPort, the Odyssey OLED G8 does not display when Windows is resumed
The most frustrating issue with the Odyssey OLED G8 is when the panel is set to 175Hz refresh rate, and the panel does not power on when Windows is resumed. The only way to get the panel to power on is to reboot or power off your computer or reset your graphics driver every time by using the keyboard combination of Win + Ctrl + Shift + B. When using this key combination, it takes around 20 seconds for Windows and the display to come back to life.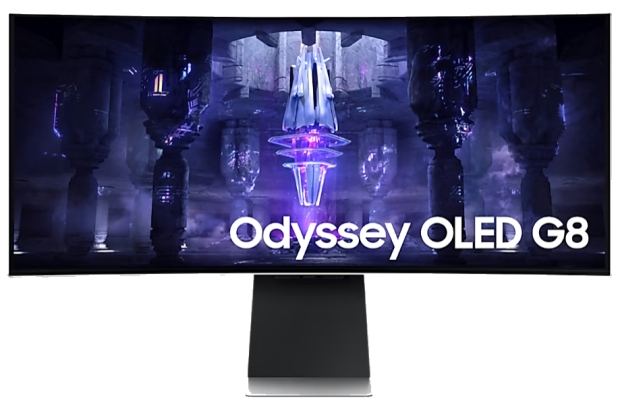 Users who have bought a premium product should not have to go to such measures or resort to using a black screensaver instead of putting their computers to sleep to save money on electricity. Users can solve this issue by using a HDMI cable, but when the monitor comes with a DisplayPort cable, you would expect the product to work out of the box as intended (and yes, even at 175Hz and not 60Hz or 120Hz) - and not have to spend more money on a HDMI 2.1 cable.
At 175Hz and using HDMI 2.1, the Odyssey OLED G8 blacks out randomly in games
The second most frustrating issue with the Odyssey OLED G8, but probably equally as bad, is when the display blacks out randomly in games for around five seconds every 2-3 minutes. I haven't had enough time to test in too many games. Still, my experience shows that even with the latest 1444 monitor firmware, latest Windows 11 updates, and GeForce drivers, in Battlefield 2042 and Roblox, the monitor randomly goes black for around five seconds, usually every 2-3 minutes. Thankfully, I discovered if you disable NVIDIA G-Sync in the NVIDIA Control Panel, this issue seems to be solved.
The other issue with using HDMI 2.1 to avoid the DisplayPort resume issue is that some features are unsupported when using HDMI. "Game HDR" is not supported when using HDMI, and with the HDMI 2.1 cable I was using, the monitor could only output 8-bit color depth, compared to 10-bit with DisplayPort.
Odyssey OLED G8 keeps being set as default Windows 11 audio device
When connected via HDMI, the Samsung Odyssey OLED G8 insists on being the default Windows 11 audio playback device every time you resume from sleep. If you don't have standalone speakers, this is fine, but for users like me who do, it's incredibly annoying. I'm sure how much this is the fault of Samsung or Microsoft, but it's an issue, nonetheless. I solved this issue by disabling the NVIDIA HDMI audio device, and now Windows does not set the monitor as the default audio playback device every time. It would be nice if Samsung offered a way to completely disable the audio from the Odyssey OLED G8, too.
Closing Thoughts
I don't know the exact specifics regarding Windows and high refresh rates and the standards set by DisplayPort and HDMI, but Samsung may be pointing to limitations in the specifications for some of the issues mentioned above. That's not good enough, though. Samsung, you've gone out and produced an amazing display. Now, please make things right and fix the issues of the Odyssey OLED G8. They may need some help from Microsoft (plus NVIDIA and AMD), so let's hope something happens soon.
Leave users with a sweet taste in their mouths, and they'll return for more when you release new gaming monitors. For now, many users, like me, are left feeling mixed emotions. Samsung's Odyssey OLED G8 gaming monitor could have been completely brilliant, but currently, it is not. If you have similar issues or different ones, please let us know in the comments below.