September marked the tenth anniversary of Grand Theft Auto V, and even though the game (specifically Grand Theft Auto Online) continues to be extremely popular, selling over 185 million copies - fans are clamoring for that official Grand Theft Auto VI reveal.
Developer Rockstar Games has acknowledged that it is working on the highly anticipated sequel. However, release windows, setting, and how it will look and feel - are all a mystery outside of leaks, suggesting a return to Vice City.
Rockstar is known for placing cryptic hints and teasers in games and other places, and some fans are convinced that Grand Theft Auto Online's Moon Festival event holds the key to when we'll officially get that big GTA 6 unveiling. Per the event's naming, the clues are about the moon and its connection to the Waning Gibbous phase.
The more obvious (if this is all intentional) clue comes with the two characters depicted in Rockstar's Moon Festival image posted to social media - where they're standing in front of the game's Vinewood sign - leaving the letters VI visible. VI is the first two letters of Vinewood and the Roman numeral for the number 6.
From here, it gets a little, well, tin-foil hat-like.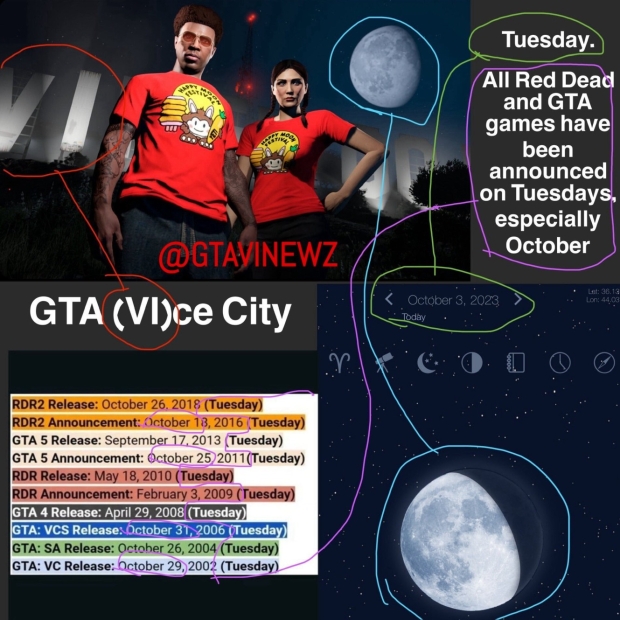 Also depicted in the image is the moon, specifically the Waning Gibbous phase - which in the real-world (that place we're all in right now) equates to a phase that will be seen this week on October 2, 2023, and then again on November 1, 2023. And with that, we could get a Grand Theft Auto VI reveal in hours or at the start of next month. Or, not at all, and this is simply a case of overzealous fans reading into things a little too much.
Case in point, Dirty_Worka, who was one of the few that spotted the "clues," responded on Twitter/X with "I'm mostly joking," adding, "part of me wouldn't be surprised if they did something like this." Over on Reddit, we've got this slightly disturbing image that aims to convince everyone that Rockstar is all about Tuesday announcements.