2023 has been a massive year for gaming, and it's showing no signs of slowing down - with one of the month's biggest releases due next week. And that is the reboot meets the latest installment in one of the most prolific fighting game franchises of all time, Mortal Kombat 1.
With a cinematic campaign, over-the-top action, and a long list of fan-favorite characters ready to dish up some Fatalities, Mortal Kombat 1 is on track for launch on PC and consoles on September 19.
As part of its weekly DLSS announcement and recap, NVIDIA has confirmed that DLSS 2 Super Resolution will be available on day one, with the tech ensuring "GeForce RTX gamers hit a locked 60 frames per second in every match, with every setting maxed out." And to celebrate the arrival of Mortal Kombat 1, be sure to watch the epic launch trailer.
And to prepare you for the game, the latest GeForce Game Ready 537.34 WHQL driver adds full support to Mortal Kombat 1 and Lies of P - a highly anticipated Souls-like inspired by the world of Pinocchio. NVIDIA also notes that the latest driver improves Starfield performance by an average of 5% across all GeForce RTX 30 and 40 Series GPUs thanks to a new Resizable BAR profile for the game.
This week, the other big DLSS addition is DLSS 3 Frame Generation, coming to ICARUS, the latest co-op survival game from Dean Hall and RocketWerkz. It arrives alongside the game's New Frontiers expansion, adding new biomes, alien creatures, a new map, and more open-world action. With DLSS 3 max settings, performance in 4K is boosted by an average of 2.6X across the GeForce RTX 40 Series.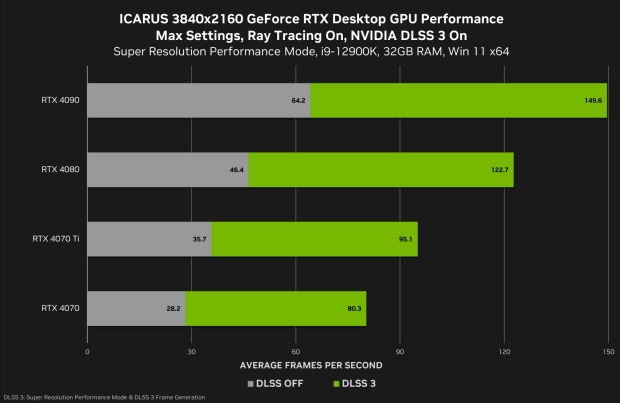 Per the chart from NVIDIA, this means over 80 fps for the GeForce RTX 4070 and close to 150 fps for the GeForce RTX 4090.
And finally, rounding out the GeForce news of the week is DLSS 2 coming to the surprisingly creepy-looking horror game Ad Infinitum, IllFonic's Arcadegeddon, and the Early Access title Starsiege: Deadzone. Check out trailers from all three below.