NASA collided a small high-speed spacecraft into a distant asteroid in an attempt to demonstrate that Earth is capable of deflecting distant asteroids that pose a direct threat to Earth. The test was successful and is called the Double Asteroid Redirection Test (DART).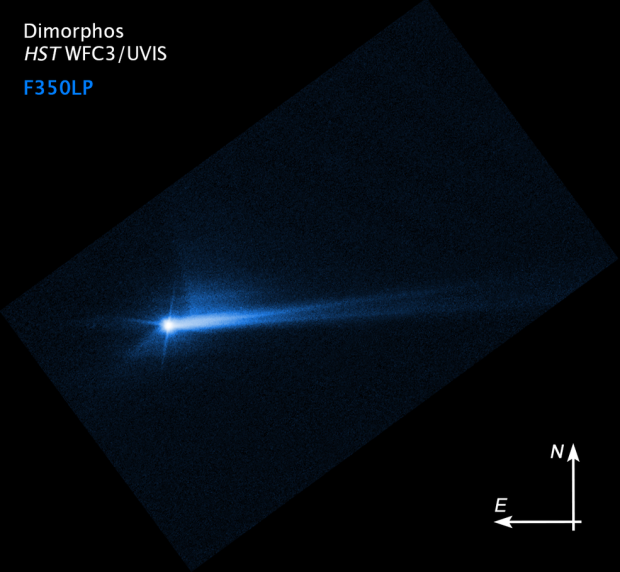 The test was conducted last September when NASA shot a vending-machine-sized spacecraft at the asteroid duo Dimorphos and Didymos. Dimorphos was the target and is the smaller of the two asteroids, orbiting its larger companion in a similar way the moon orbits Earth. The connection was successful, and NASA announced it slowed Dimorphos' orbit down by half an hour, from one full orbit of Didymos prior to impact taking 11 hours and 55 minutes to post-impact 11 hours and 23 minutes.
However, Jonathan Swift, a math and science teacher at the Thacher School in California has used the Tacher Observatory to observe the orbit of Dimorphos for a month following the impact, and found that the asteroid's orbit appears to be continuously slowing down, which is contrary to common astronomer predictions that said Dimorphos' orbit would return to its original speed after the collision.
"The number we got was slightly larger, a change of 34 minutes," Swift told New Scientist. "That was inconsistent at an uncomfortable level."
"We tried our best to find the crack in what we had done," Swift expounded, "but we couldn't find anything."
It's currently unclear why Dimorphos is continuing to slow down, with some theories suggesting that the smaller asteroid was knocked off its tidal lock from Didymos, resulting in the asteroid being to "tumble". However, this is yet to be proven. According to a spokesperson who told New Scientist, NASA is expected to release a report on the DART mission soon that may clear up this confusion.