NVIDIA's DLSS has been one of the most significant gaming technologies to emerge in the past decade, a form of upscaling that leverages the power of AI and dedicated hardware to boost performance without adversely impacting image quality. With last year's arrival of the GeForce RTX 40 Series, NVIDIA introduced DLSS 3 and Frame Generation, which added a new AI layer that created entire frames.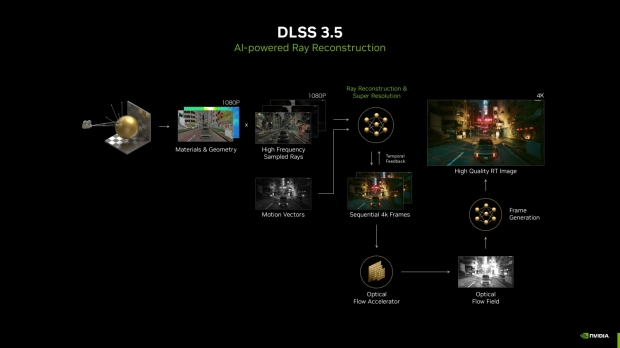 Frame Generation makes the previously unplayable playable for ray-tracing and full path-traced titles like Cyberpunk 2077 (using the new RT Overdrive Mode) and Portal with RTX. Not to mention opens the door to being a great tool that all 40 Series cards can benefit from - from the entry-level GeForce RTX 4060 to the flagship beast, the GeForce RTX 4090.
Today NVIDIA is announcing the arrival of DLSS 3.5, which unlike DLSS 3 and Frame Generation, is compatible with all GeForce RTX GPUs. What does the .5 add to the DLSS stable? Well, a little something called Ray Reconstruction.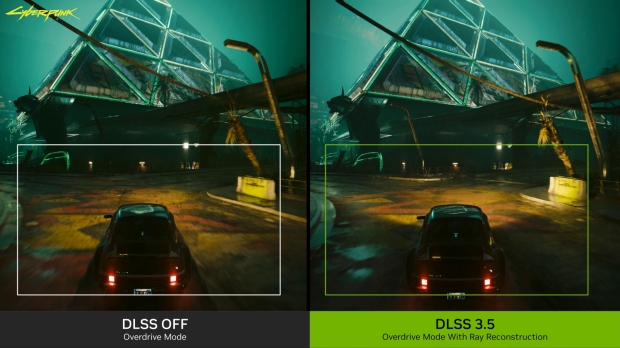 And it can improve performance too, as seen in Cyberpunk 2077.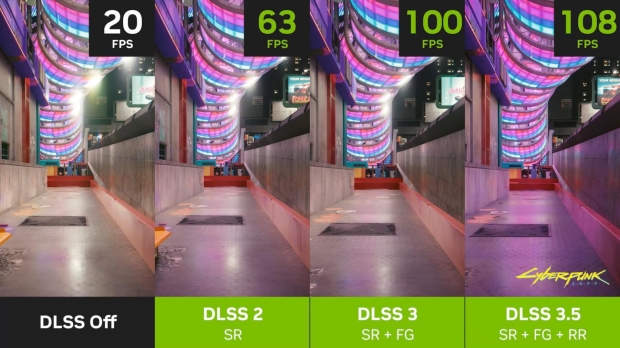 At the technical level, it replaces "hand-tuned denoisers with an NVIDIA supercomputer-trained AI network that generates higher-quality pixels between sampled rays." In other words, it adds a layer of AI trained to understand all ray-tracing effects to help improve image quality for ray-traced enabled titles.
Essentially it makes ray tracing look better, removing unwanted noise and incomplete detail to deliver a cleaner and crisper image with better RT. Using a denoiser is a key part of rendering any scene with ray tracing, but the results are not always pristine or picture-perfect- so to speak - there's much guesswork.
Ray Reconstruction works alongside DLSS 2 Super Resolution to help remove things like ghosting and other unwanted discrepancies when it comes to a hand-tuned denoiser trying to differentiate good pixels from bad. It also helps to accurately upscale and render RT effects with great detail and depth - as seen in the following examples.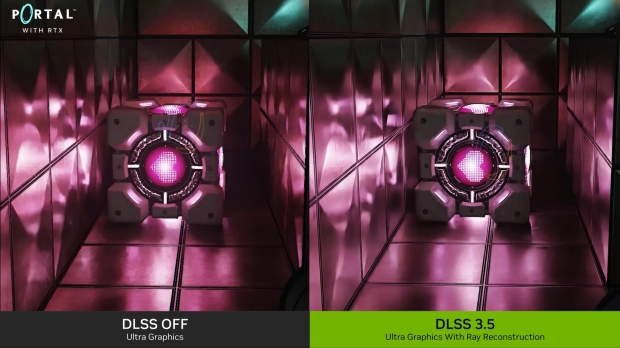 With the power of AI, trained on 5X more data than DLSS 3, the results are already impressive. DLSS 3.5 will debut in Cyberpunk 2077: Phantom Liberty in September, alongside Alan Wake II in October, and Portal with RTX this Fall. DLSS 3.5 and Ray Reconstruction will be included in D5 Render, Chaos Vantage, and NVIDIA Omniverse updates.
"Thanks to DLSS 3.5's smart technology, fuelled by AI rendering power, you can experience Cyberpunk 2077: Phantom Liberty's newest location Dogtown at its very best," Jakub Knapik, VP of Art, Global Art Director, CD Projekt Red, said. "With sharper images, more accurate lighting, and the highest frame rates possible."
"The new Ray Reconstruction feature in DLSS 3.5 renders our fully ray-traced world more beautifully than ever before, bringing you deeper into the story of Alan Wake 2," Tatu Aalto, Lead Graphics Programmer at Remedy Entertainment, adds.
NVIDIA will also be on hand to demonstrate DLSS 3.5 at its booth (Hall 2.1 Booth A10) at Gamescom 2023 this week.