AMD's upcoming Threadripper Pro 7000WX "Storm Peak" series will shake up the workstation CPU market, thanks to the Ryzen Threadripper Pro 7995WX being spotted in a new Geekbench 5 submission. A 96-core and 192-thread monster, it will replace the existing Ryzen Threadripper Pro 5995WX as AMD's' flagship workstation CPU - delivering a whopping 50% increase in core count.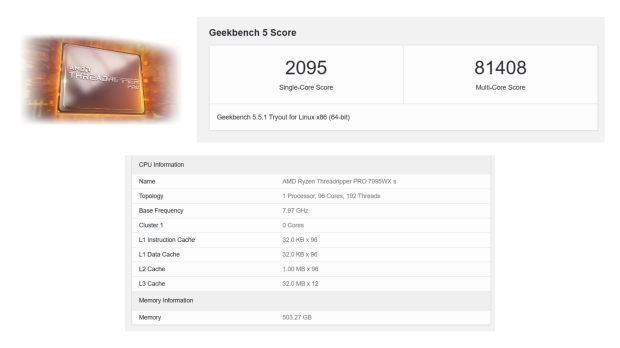 According to the benchmark results, the new CPU was connected to an HP Z6 G5 A Workstation system - with additional information confirming that the 96-core CPU could achieve a boost clock speed of 5.1 GHz (though this is incorrectly reported as 7.97 GHz).
As the new Threadripper Pro 7000WX series is based on the Zen 4 architecture, the Threadripper Pro 7995WX is also paired with 512GB of DDR5 memory (though the Geekbench listing doesn't confirm the full memory spec) with a sizable 384 MB of L3 Cache and 96MB of L2 Cache - which is similar to AMD's data center-focused EPYC 9654.
Outside of high-level specs for the new flagship Threadripper, the single-core score of 2095 and a multi-corfe score of 81408 make it a world-record candidate.
This represents a 26% higher single-core performance increase over the previous generation and a 50% higher multi-core performance increase. Of course, pricing will be an important factor in determining affordability for the flagship Threadripper Pro 7000WX "Storm Peak" series CPU - which is also set to feature a power rating of 350W TDP.
The new Ryzen Threadripper Pro 7000WX series is expected to launch in Q3 2023, so expect a full announcement with pricing and availability soon.