Elon Musk has implemented a new strategy with the goal of attracting advertisers back to the social media platform X, formerly called Twitter.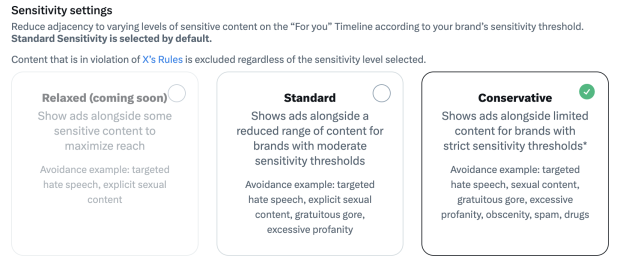 When Elon Musk purchased what was Twitter for $44 billion in October 2022, the platform saw a dramatic drop in advertising expenditure as companies were concerned about the changes Musk planned on implementing when it came to content moderation.
The Tesla CEOs changes expanded what content could be posted on Twitter, under the guise of freedom of speech. Advertisers were concerned that their ads would appear alongside content that doesn't necessarily represent their brand or was just entirely inappropriate.
In response to these changes, advertisers pulled out of the social media platform resulting in a catastrophic dip in revenue for what is now called X and this drop is still being felt today. Now, Musk is working towards regaining the trust of many of X's former advertisers by rolling out a new tool called "sensitivity settings".
The company wrote in a blog post that the tool will use machine learning to ensure that brand advertisements appear next to content that meets "unique sensitivity needs", also referred to as a "sensitivity a threshold."
Three levels of sensitivity:
Relaxed sensitivity, which is not yet available, will "show ads alongside some sensitive content to maximize reach" but will exclude targeted hate speech and explicit sexual content
Standard sensitivity is for brands with "moderate sensitivity thresholds" and will not show ads alongside targeted hate speech, explicit sexual content, gratuitous gore, excessive profanity.
Conservative sensitivity is a "strict sensitivity threshold" that will not show ads next to "targeted hate speech, sexual content, gratuitous gore, excessive profanity, obscenity, spam, and drugs."