The latest NVIDIA GeForce Game Ready Driver 536.99 release is here, adding DLSS 2 support to Baldur's Gate 3 to deliver impressive performance gains on GeForce GPUs. The worldwide RPG phenomenon from developer Larian Studios is one of the biggest PC releases 2023, hitting an all-time peak concurrent player count on Steam of over 800,000.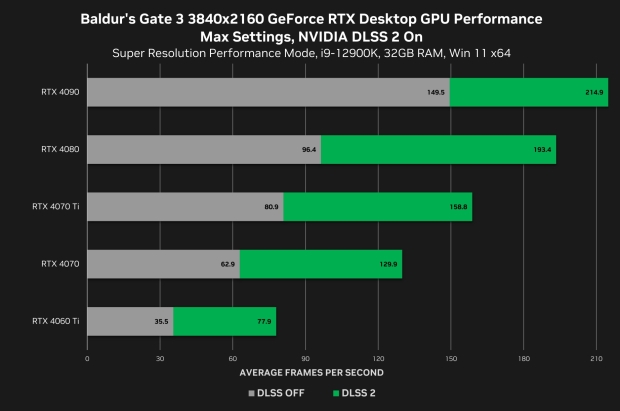 NVIDIA notes that GeForce driver support for the game has been there since the game first hit Early Access three years ago, with the latest GeForce Game Ready Driver featuring "additional optimizations and enhancements" to improve performance. Baldur's Gate supports NVIDIA DLAA and DLSS 2, with the latter delivering some impressive 4K results - up to a 93% boost on average for the GeForce RTX 40 Series.
To showcase Baldur's Gate 3 with DLSS 2 enabled, NVIDIA provided a 4K benchmark graph of the game running with max settings using the DLSS 'Performance' mode. And we see every GPU from the GeForce RTX 4060 Ti and up getting a sizable boost, with the mid-range and lower-tier GeForce RTX 40 Series cards seeing the biggest benefit.
Here's a quick breakdown of the numbers and performance improvement.
GeForce RTX 4060 Ti: 35.5 fps (DLSS Off ), 77.9 fps (DLSS 2) - 119% increase
GeForce RTX 4070: 62.9 fps (DLSS Off ), 129.9 fps (DLSS 2) - 107% increase
GeForce RTX 4070 Ti: 80.9 fps (DLSS Off ), 158.8 fps (DLSS 2) - 96% increase
GeForce RTX 4080: 96.4 fps (DLSS Off ), 193.4 fps (DLSS 2) - 101% increase
GeForce RTX 4090: 149.5 fps (DLSS Off ), 214.9 fps (DLSS 2) - 44% increase
And for those without a brand-new GeForce RTX 40 Series GPU, GeForce NOW Ultimate Members can play Baldur's Gate 3 with the power of a GeForce RTX 4080 to play the game at a smooth 4K 120 fps on cloud-compatible devices.
In addition to optimizations for the big game everyone is playing and talking about, NVIDIA GeForce Game Ready Driver 536.99 also adds support for the upcoming release of The Texas Chain Saw Massacre on August 18 with DLSS 2. Team 17's Gord is a new "single-player adventure-strategy game" out soon, and it's also getting DLSS 2 on day one.
Grab the new GeForce Game Ready 536.99 WHQL driver here or via the GeForce Experience app.